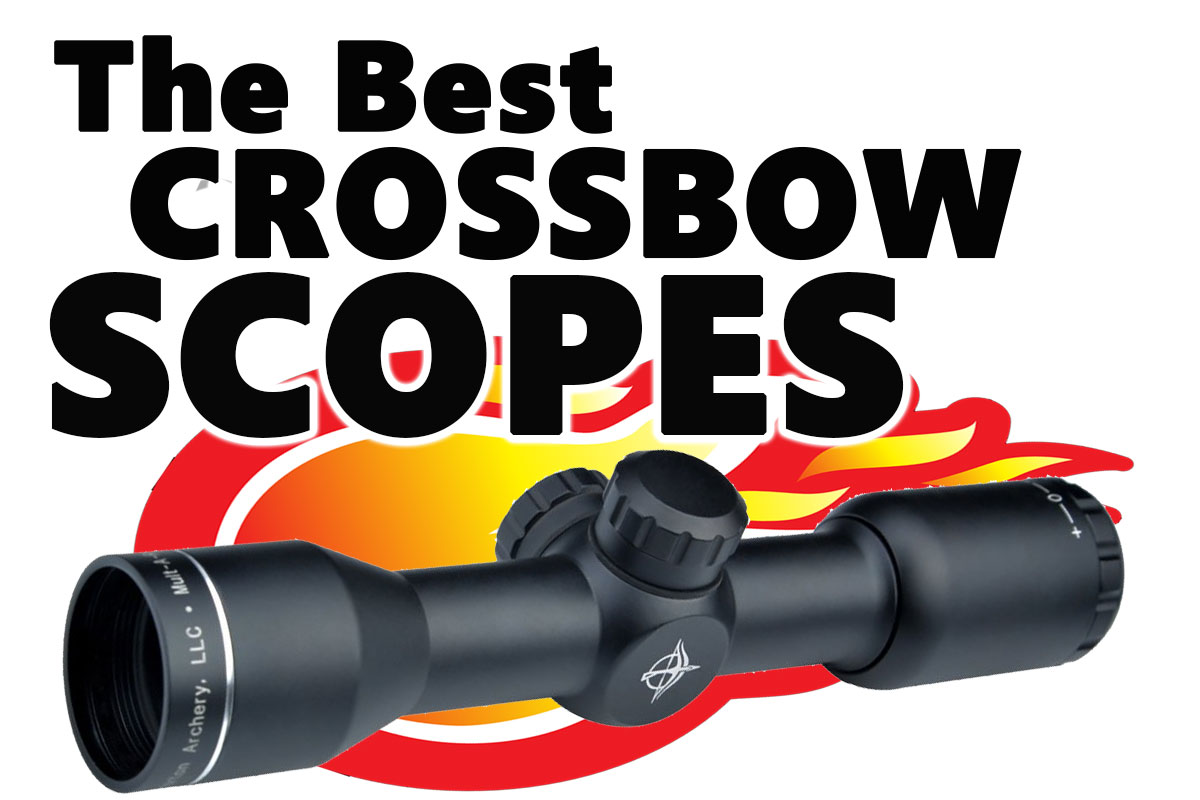 Finding the best crossbow scope for hunting and target shooting is an excellent means of increasing accuracy quickly and easily.
Off the shelf, most crossbows are fitted with low-quality optics to keep production costs down. Ditching your sub-par scope for a higher quality option is a smart move for a handful of reasons:
Better field of view: Many high-quality crossbow scopes feature a wider field of view, allowing the shooter to see more and find targets more easily.
More magnification: With pre-set and variable zoom options available crossbow shooters can get in closer for more accurate shot placements.
Better light transmission: High-quality crossbow scope lenses transmit more light which translates to better visibility during dusk and dawn when game animals are most active.
Illuminated reticles: Options exist with illuminated reticles for low light hunting.
Fine Tuned FPS adjustments: Many xbow scopes feature FPS dials allowing the shooter to dial in the exact draw weight of the crossbow for pinpoint accuracy at all ranges.
Sturdier build quality: Pricier optics are usually built using higher quality components capable of holding zero after being bumped and bashed around during transport, and out in the field hunting.
The best crossbow scopes feature FPS speed adjustments and adjustable magnification for top-quality performance in a variety of shooting conditions. With so many xbow scopes on the market, it might be difficult for you to track down the best model to buy. 
We weeded out all the lame ducks to showcase some of the best options currently available to upgrade your crossbow so you can spend less time wondering which crossbow scope to buy and more time out in the blind or up in a tree hunting!
---
---
---
---
---
---
---
---
---
Conclusion
If you're looking for a fast and easy way of improving accuracy and range, upgrading to one of these best crossbow scopes is a great move.
The process of replacing and upgrading the scope is easy and fast. The crossbow scope is fastened to the rail using metal mounts which are removed easily with a screw driver.
Just make sure you do not overtighten the screws when you install the new scope. It's best to use a thread locking compound like Loc-Tite and get the fasteners nice and snug. Don't go crazy on things and strip the threads.
Once the new optics are mounted, the crossbow is sighted in at a close range to dial in the windage. The FPS setting should take care of most elevation issues but some adjustments will probably be necessary.
Any of the top rated crossbow scope choices in this guide will probably be an upgrade over the standard low quality "stock" optics packaged with most crossbows.
Having a top-quality crossbow scope can add several minutes of huntable light to your outings.
As you know, the big trophy animals like to move early in the morning and at dusk when the light is low. Better optics will extend the shootable light, allowing you to stay on stand longer with the ability to shoot more accurately in low light conditions.
Frequently Asked Questions About Crossbow Scopes
Can you use any scope on a crossbow?
Answer: It is not advised for 2 main reasons: 1) Most rifle scopes are parallex adjusted at 100 yards, and 2) Rifle scopes are not FPS adjustable.

What is the best crossbow scope on the market?
Answer: There are several makes and models to choose from. It's best to consider size and overall quality specific to your crossbow when choosing good optics.
How far can you shoot a deer with a crossbow?


Answer:

While some crossbows can shoot tight groups out beyond 100 yards, shooting a deer or other animal at that range is risky because a crossbow arrow flies well under the speed of sound. The animal hears the crossbow before the arrow arrives, allowing it to move or "jump the string" which can lead to injury. We don't like shooting at deer past 50 yards, and larger animals like elk beyond 80 yards.
What is the best crossbow for 2019?


Answer:

2019 was a great year for crossbow designs with many new models available. Here are some tips for choosing the right crossbow.