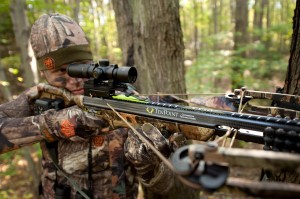 With crossbow hunting becoming legalized in a greater number of states the controversy over whether or not they should be included in traditional archery hunting seasons alongside compound bows continues to flourish.
Deer & Deer Hunter's Tom Carpenter details some of the arguments made both for and against the legalization of crossbow hunting. Not unlike the uproar caused by the compound bows entrance into the traditional archery arena, many voice similar reservations over the decision many states are making by allowing hunters to use crossbows.
Oh, the objections to the compound bow, though. I can still hear the arguments today. The wails came from traditionalists rooted in the world of longbows and recurves, as well as hunters in general who feared the potential ruination of deer herds and other big game because of the perceived advanced technology compound bows brought to the woods.
While many states have allowed crossbows to be used by disabled hunters with special permits for several years, opening the doors for crossbow use to all hunters is something relatively new. Many worry that hunting with a crossbow lacks the challenge of traditional archery or hunting with a compound bow, which could result in overharvest during the deer archery seasons.
There's a misconception that crossbows are long-range tools that let you kill deer at 60, 70 or 80 yards consistently. Thats simply not true. For most hunters, the crossbow adds maybe 10 good yards onto the range of what can be done with a compound bow. In most hands, the crossbow is a 50-yard or closer hunting tool.
Tom also touches on how many feel the crossbows accuracy is too great, and it's not enough of a challenge. But why is increased accuracy a bad thing when it means cleaner kills and less suffering?
Compound bows are deadly out to 30 yards for some shooters and maybe 40 yards in the hands of a really good shooter. Thats not much less than the reliable range of a crossbow. Are an extra 10 to 20 crossbow yards really going to whack back our deer herds?
It's a debate that isn't going to be settled anytime soon. As Tom elaborates, it does become increasingly clear that the positives of allowing crossbow hunting are outweighing the negatives. Especially considering most of the negatives are unfounded and based on misconceptions.
See full story on deeranddeerhunting.com
Image courtesy of deeranddeerhunting.com