With the increased popularity of hunting and target shooting, there has been an increase in women's interest in crossbows. These crossbows are usually lighter, which makes them easier to handle. The best crossbows for women are also smaller and more compact to make them easier to carry around.
With so many different crossbows makes and models on the market it can get confusing fast. No worries, we are here to help you find the best crossbows for women who are serious about hunting.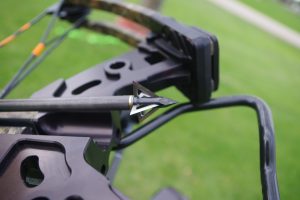 The best crossbows for women will have a compact design that is easy to shoulder, a moveable stock to adjust for arm length, finger protection and anti-dry fire safety enhancements. Models made of lightweight components will make the xbow easier for females with smaller arms to handle and shoot accurately.
And no, ladies crossbows do not mean they are cute and cuddly and adorned in floral patterns and smell like roses. These models are just as powerful and reliable as many other larger models.
They are simply smaller and a bit easier for smaller people who don't want a large, cumbersome crossbow to lug around that requires Arnold Schwarzenegger arms and shoulders to bring to full draw.
Most of the crossbows listed below come in packages with everything you'll need, so you won't have to worry about anything else. Considering the prices of the bows listed below, you will certainly find a good fit for your budget. And since all of them are high-quality, you don't have to worry about the price to performance ratio.
Here are our picks for the best crossbows for women:
 1) Killer Instinct Furious Pro 9.5 400FPS Crossbow
Buy on Amazon
Even though a 'new' company makes this crossbow, it's of the best out there. The crossbow is very lightweight and narrow, making it very easy to handle and shoot with. You will find a foot-stirrup attached, which will make reloading the crossbow very effortless.
Other things included with the Killer Instinct Furious Pro are a 5-bolt quiver, rail lube, 20-inch bolts with moon nocks, and a cocking rope. Even though this bow weighs at around 7 LBS and has a draw weight of 185 LBS, it can still shoot arrows at 400 feet per second.
Together with the bolts, you will get a very accurate scope. The LUMIX 4 x 32 IR-E one. The scope will already be calibrated out of the box, but you might need to adapt it to your needs. Both of these make a good combo and are an excellent option for a crossbow.
2) BARNETT Whitetail Hunter Crossbow
Buy on Amazon
A compact crossbow made for anyone who wants a great and relatively cheap priced option. Weighing at 6.2 LBS and requiring a 160 LBS of draw weight makes this bow easy to use for everyone. With a speed of 340 feet per second, it's not the fastest, but it still gets the job done on shots out to 40 yards
As for the scope, the Whitetail Hunter Crossbow comes with a 4 x 32 multi-reticle scope. Together with that, this bow can turn deadly for any animal you come across if you take this bow hunting.
If you don't like the scope, you can change it pretty quickly. Just start looking out for another scope that supports a Picatinny rail. There will be a cucking rope, a three arrow quiver, and three 20-inch headhunter arrows with the crossbow.
With a sleek design and excellent performance, this xbow is a great choice for anyone. You can't go wrong with picking this one, but if you have other needs check out the rest of the list.
3) Bear X Saga 405 Intense Ready to Shoot Crossbow
Buy on Amazon
This is one of the more complete packages you can find. The Bear X Saga 405 delivers one of the best performances among the crossbows on this best crossbows for women list.
With the included 4 x 32 multi cross-hair scope, you are guaranteed to get some great shots from this one. This crossbow comes with an all-inclusive package. Including a 4-bolt quiver, three carbon bolts with field points, a cocking rope, and rail lube that will keep everything working fine.
With a great price to performance ratio, the Bear X Saga 405 is a crossbow you should not look over. With a 7.5 LBS weight and a speed of up to 405 feet per second, this bow is perfect for many different activities.
One thing to keep in mind is the 210 LBS of draw weight it requires can be a bit cumbersome especially in the cold when clad with large, bulky hunting clothes.
Apart from that, this is a great deal. With an adjustable forend grip and stock, you can adapt this to your size and make the most out of it. A tremendous all-around package, and you won't regret buying it.
4) PSE Archery Fang HD Crossbow
Buy on Amazon
The Fang HD is one of the newest crossbows on this list, with its first release being in 2019. This bow made by PSE Archery is one of the best that you can find for this price range.
With a 7.3 LBS weight and draw weight of 205 LBS, this bow can reach speeds of up to 405 feet per second, which is the same speed as the Bear X Saga, making it another great choice in the best crossbows for women category.
One of the main focuses of this crossbow is accuracy, and to help with that is the HDV 425 1.5-5 x 32 scope. The HDV 425 is one of the most versatile scopes on this list, and your shooting experience will be improved.
Together with the bow, you will get a 5-bolt quiver, three 22-inch carbon bolts with bullet points, rail lube, cocking rope, and many more. All of these things make the Fang HD a perfect crossbow for any woman, and with the price that it has, it's hard to find a better alternative.
5) Southern Crossbow Rebel 350 Crossbow Package
Buy on Amazon
One of the heaviest crossbows on this list with 10 LBS weight, the rebel 350 may not be the best choice for ladies looking for super light-weight hunting options. Regardless of the weight it still makes the best crossbows for women category due to it's modest draw weight.
The good news is that the draw weight required is only 155 LBS, which is significantly less compared to the Bear X Saga 405 and other models.
The low draw weight can be a real godsend in cold weather when muscles are cramped and bulky winter clothing is being worn.
With an easy assembling process, this xbow is ready for action in no time. As usual, the bow comes already equipped with a 4 x 32 scope, which is a decent one in the daytime and areas with good light.
The included scope isn't going to win any awards for low-light performance. It's useable at dusk and dawn but if you have poor vision it's not going to help matters much. The Rebel 350 shoots up to 350 feet per second, which is not the highest but provides ample power for tagging whitetail.
The attached vertical fore-grip makes shooting the crossbow better and will help with stability. You also get four field tip aluminum 20-inch arrows, six arrow quivers, rail lube, safety glasses, and cocking rope. All of these included items make this a great deal and a good option for anyone.
6) Southern Crossbow Risen XT 350 Crossbow
Buy on Amazon
This bow is very similar to the Rebel 350, with some slight changes to it. They are both made by the same company, and as you can see, they are mentioned a lot on this list, which tells us that they make good quality crossbows and are an excellent choice for ladies looking for a solid hunting crossbow for under $400 that is not going to break the bank.
Like the Rebel 350, the Risen XT ships with the 4 x 32 scope, four field tip aluminum 20-inch arrows, six arrow quiver, rail lube, safety glasses, and cocking rope.
The differences between these two xbows are the draw weight and the overall weight. The Risen XT 350 has a draw weight of 180 LBS and a weight of 8 LBS, which makes the bow lighter than the Rebel but has a heavier weight draw. As for the speed, as you can tell from the name, it's 350 feet per second.
7) Southern Crossbow Revolt 370
Buy on Amazon
This is another bow from the Southern Crossbow company. Together with the bow, you will get the usual things for a Southern Crossbow like the 4 x 32 scope, four field tip aluminum 20-inch arrows, six arrow quiver, rail lube, safety glasses, and the cocking rope.
The Revolt 370 is the lightest among the crossbows from this company at around 7 LBS and also has the heaviest draw weight, with it being at 185 LBS.
The Revolt 370 is a good choice for women xbow hunters who aren't afraid of a little extra draw weight. The good news is the heavier draw weight means a faster 370 FPS arrow capable of a flatter trajectory and more impact power.
Closing Thoughts For The Best Crossbows For Women Category
When it comes to picking the best crossbows for women smaller is usually better. By design, crossbows are large and cumbersome and can be difficult to handle especially when wearing bulky clothing in cold weather.
If you plan to hunt in a small, portable archery blind, or up in a tree-stand or elevated box blind the smaller format crossbows really shine.
The worst thing any female crossbow hunter can do is choose a model that she can barely draw or requires a lot of movement and struggling to get to full draw.
Ideally, ladies should consider lighter-weight crossbows with mid-range draw weights and adjustable stocks that can be lengthened or shortened to accommodate different arm lengths and shooting styles.
With more and more women getting into crossbow hunting, the market for top-rated ladies' crossbows continues to grow. The good news for the ladies is that technology continues to make hunting crossbows lighter, easier to shoot, and easier to carry out in the field.