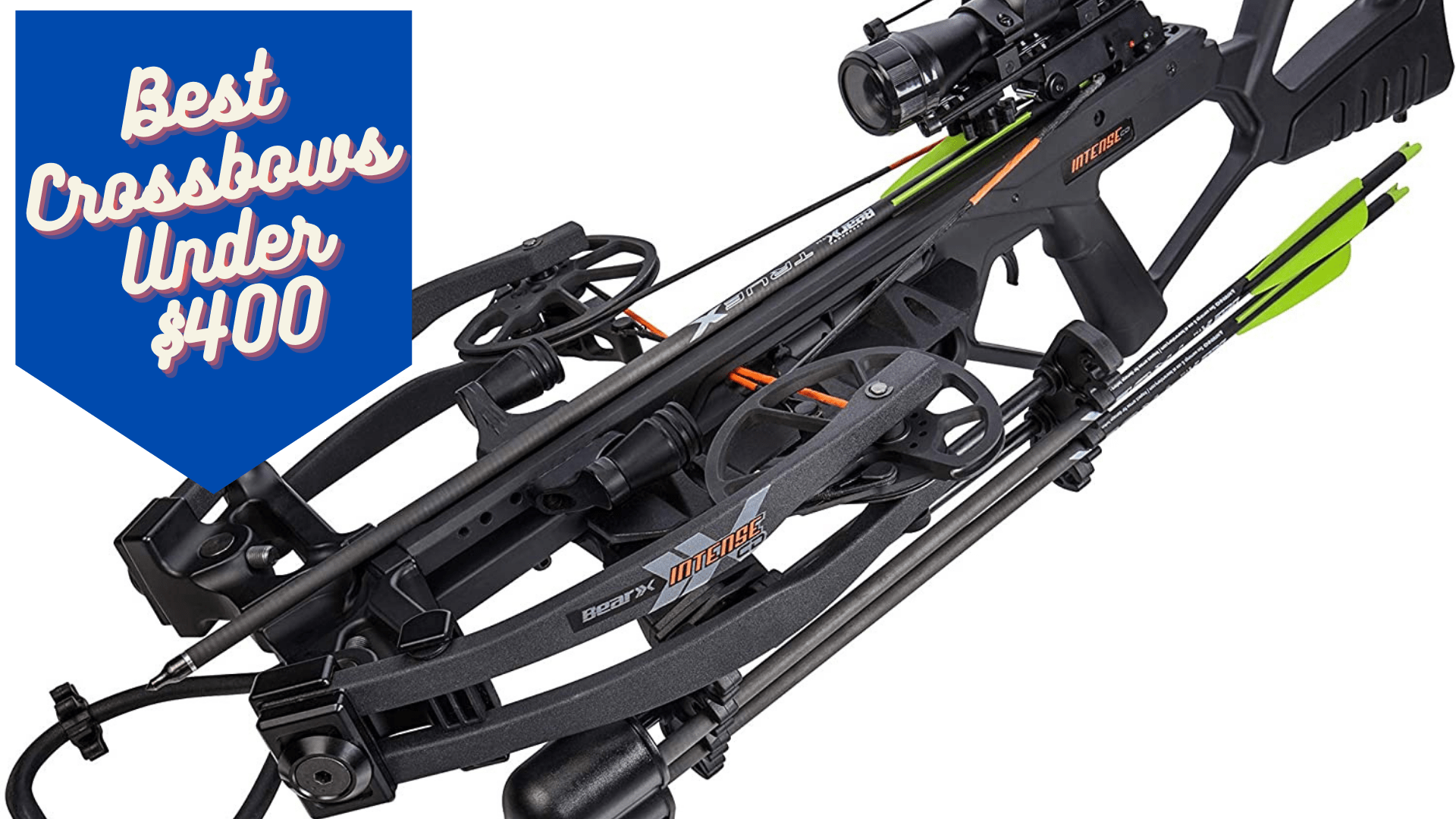 Let's face it, now everyone has the cash to plop down $1500-$2500 on a top-end, state of the art crossbow capable of blisteringly fast speeds and loaded with all the latest bells and whistles.
The good news is there are some solid hunting crossbows that can be bought for $400 and under. You're not going to get record-breaking performance, but several models have adequate power, speed and accuracy to bring down whitetail and other large game animals.
We will list the best hunting crossbows under $400. However, even if the bows are cheap that doesn't mean they are going to be bad. Some of these do better than the more expensive crossbows you can find.
Like the best hunting broadheads, and other related gear, you tend to get what you pay for. Fortunately, you won't have to pay too much over $400 for these dependable crossbow models that are all very capable of filling your tag this hunting season.
Here's our list of the best hunting crossbows under $400:
1) Barnett Whitetail Hunter Crossbow
Buy on Amazon
This is a lightweight bow that's good enough for hunting everything. Weighing at 6.2 LBS and requiring a draw weight of 160 LBS, which makes this crossbow very easy to handle. The Whitetail Hunter crossbow reaches speeds of up to 340 feet per second, and on the impact, it produces 103 foot-pounds of kinetic energy.
And as you can see from the name, this bow seems like it was made for hunting whitetails, but that's not it. You can hunt almost anything with it, making it a piece of very versatile hunting equipment. The scope that's on this bow is a 4 X 32 multi-reticle one that the company uses in almost all of their bows in this price range.
In regards to quality, for its price, this is a great one, and if you want to upgrade the scope, you can do so very easily because of the mounting system which is set on a Picatinny rail. Still, the bow plus scope combo is excellent, and you don't need to change it.
With a price set at $340, the Whitetail Hunter is an incredible deal, and it offers a lot for the price. When purchasing this bow, you also get three 20-inch headhunter arrows, good enough for any hunt, a rope cocking device, and a three arrow quiver. All of these things make this bow a deal you don't want to miss.
2) Southern Crossbow Rebel 350 Crossbow Package
Buy on Amazon
The Rebel 350 is one of the oldest bows on our list, and it was made back in 2013, but that doesn't mean that this is a lousy crossbow that isn't going to help you fill your tag this deer season. You can see the age of the crossbow from the weight that it has which is a rather heavy10 LBS. Apart from that everything else is great about it.
This xbow requires around 155 LBS of draw weight and can shoot with a speed of up to 350 feet per second. That speed is acquired when shooting with arrows weighing at 400-425 grains, but you can reach even higher speeds if you shoot with lighter arrows, keep in mind not to use arrows that weigh below 350 grains. In fact, we suggest always sticking to the heavy side for better downrange arrow penetration.
For a scope, you get standard 4 x 32 optics, which is excellent during the daytime. The problems with this scope start to be noticeable in a darker environment or during nighttime. So if you plan on hunting during the night for predators, you better start searching for a better scope.
The Rebel 350 comes in a package filled with four field tip aluminum 20-inch arrows, a six arrow quiver, cocking rope, lube, and safety glasses. Apart from the weight and the not so good scope, everything else is good enough, and with a price point of $254 makes this an excellent alternative for anyone looking for a budget-priced crossbow capable of bringing down deer and other game animals at ranges out to 30 yards.
3) PSE Archery Fang HD Crossbow
Buy on Amazon
The Fang HD by PSE Archery has probably the best price to performance ratio on this list. This xbow was built with accuracy in mind, so that will increase your success when hunting.
Weighting around 7.3 LBS and requiring 205 LBS of draw weight makes this bow great to handle as well. As for the speed, this bow can reach up to 134 foot-pounds of kinetic energy, which makes it perfect for hunting anything.
Another great thing about this crossbow is the scope. The HDV 425 is  1.5-5 X 32 scope, and that makes it very versatile. With a scope like that, you won't have any problems finding your prey and shooting it in low light conditions prevalent during dusk and dawn when the animals are on the move and most active.
This crossbow also has adjustable buttocks, which makes it a better option for multi-person use. You can also get three 22-inch carbon bolts with bullet points, a 5-bolt quiver, rail lube, and a cocking rope with the crossbow. The Fang HD comes packed with many great features and is an excellent deal for anyone, especially for a $379 price we see which is a nice chunk under the $400 mark.
4) Bear X Saga 405 Intense Ready to Shoot Crossbow
Buy on Amazon
The Bear X Saga 405 Intense Ready to Shoot Crossbow is the first out of the two from the Bear X Archery lineup designed to bring high performance to hunters at a lower entry level price point hovering around the $400 range.
We've seen the Bear X Saga Crossbow sold in the $299 range. And for that kind of price, you get an amazing crossbow and some great features with a full package that is tough to beat for entry-level and beginner crossbow hunters.
As for specifications, this bow weighs 7.5 LBS, and it requires a 210 LBS draw weight. You can tell from its name the speed that this bow can reach is 405 feet per second which is plenty fast to harvest most large North American game animals.
You also get an adjustable forend grip, which shows what a terrific deal this is and makes the crossbow very user friendly for shooters of different sizes.
Other things included with this crossbow are a 4-bolt quiver, cocking rope, string lube, and of course, three carbon bolts with field points. As for the scope, you get a 4 X 32 multi cross-hair, which is good enough for most shooting and hunting situations and is easy to upgrade.
As you can see, this truly is one of the best deals you can get on a crossbow. The Bear X Saga 405 is not just a great starting crossbow, but you can use it even if you have more advanced skills and more experience.
5) Bear X Intense CD Ready to Shoot Crossbow
Buy on Amazon
The second crossbow from the Bear X lineup, the Intense CD, is very similar to the Saga 405. Compared to it, this bow is a little bit heavier at around 7.8 LBS, and it requires less draw weight, with it being at 175 LBS.
Because of the lower draw weight, the speed is slightly less, set at around 400 feet per second. Apart from those, everything else is almost the same, including the scope and the package it comes with, which just like the Saga 405, includes a 4-bolt quiver, lube, cocking rope, and three Bear X True X arrows.
The Intense CD's price is $344 which is a bit higher than the Saga 405, but that doesn't mean that his bow is not worth it. If you decide to purchase this one, you won't be disappointed.
Closing Thoughts
As you can see, there are not so many options for the Best Hunting Crossbows Under $400. However, the crossbows that we have featured on this list are still excellent at what they do and can really hold their own when competing with other more expensive hunting crossbow models.
If you are just getting into crossbow hunting and don't want to spend an arm and a leg, any of our suggestions make for a wise choice. Just remember to limit your shot distances to 30 or 40 yards with these crossbows in the $400 range. For super long shots reaching out to 75 to even 100 yards, you will need to spend considerably more money.