There's not much bad to say in this Wicked Ridge Invader 400 Crossbow review.
The Invader 400 is a beast of a crossbow! It's made in the USA and is an excellent choice for new and seasoned crossbow hunters alike.
It's not super small and compact like some other crossbow models are. But it's plenty portable for hunting from ground blinds, box blinds and hang-on, ladder and climbing tree stands.
As a mid-priced crossbow option that's perfect for deer hunting and easy to shoot, this is a great choice. And since it's an older model it can be purchased at lower price points.
Prices pulled from the Amazon Product Advertising API on:
Product prices and availability are accurate as of the date/time indicated and are subject to change. Any price and availability information displayed on [relevant Amazon Site(s), as applicable] at the time of purchase will apply to the purchase of this product.
This hunting crossbow is an excellent value and offers a ton of solid features and performance at a price point that won't have your credit card smoldering in your wallet after the purchase has been made!
Wicked Ridge set out to build a crossbow that would rival (and perhaps exceed) the competition's performance in speed, level of accuracy, ergonomics, and ease of use.
How To Assemble The Wicked Ridge Invader 400 Crossbow
This crossbow has a built-in ACUDRAW Cocking Device that reduces the crossbow's draw weight by 50%. The Invader 400 will help you take your game to the next level.
This high-performance crossbow has a draw weight of 185 lbs., making it fairly easy to cock, and the ProView 3x Scope will give you greater accuracy while delivering a crisp sight picture.
With its solid limbs, fully coated optics, and lighter weight, this bow shoots arrows at an incredible speed of 400 FPS—that's over 40 FPS more than its predecessor.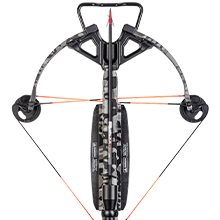 The Invader 400 features three crosshairs and four dots calibrated to be accurate at up to 50 yards.
The Invader 400 is Wicked Ridge's response to buyers' requests for a compact, lightweight compound bow that could be easily transported through the wilderness and into remote areas.
Wicked Ridge Invader 400 Crossbow SPECS
SPEED – 400 Feet Per Second
KINETIC ENERGY – 134-FT-LB
TRIGGER – 3.5-LB
WIDTH – 15″ Cocked//19″ Uncocked
LENGTH – 35.5″
WEIGHT – 6-LB
DRAW WT – 185-LB
CAMO – Woodland
PROS
Competitive Price
Excellent Safety Features
Light Weight
Fast & Accurate
Excellent Limb Quality
CONS
Stock Is Not Adjustable
Stock Optics Are Only OK
400 FPS Limited To Ultra Light Arrows
Wicked Ridge Invader 400 Crossbow Review Ratings
How Fast Is The Wicked Ridge Invader Crossbow?
It shoots 400FPS with Ten Points ultra-lite arrows. For better results we advise using heavier arrows for increased penetration and kinetic energy retention.
Who Makes The Invader Crossbow?
The Wicked Ridge Invader Is Manufactured By Ten Point and is made in the USA.
How Much Is A Wicked Ridge Crossbow?
The Invader 400 is a mid-priced hunting crossbow in the $600 – 700 range depending on the package and features.
Wicked Ridge Invader 400 Crossbow Review Conclusion
The Invader 400 is a really tough-to-beat crossbow hunting package.
With Ten Points design and engineering built into the crossbow, it shoots smooth and has plenty of knockdown power.
The Wicked ridge invader 400 crossbow can achieve bolts speeds of up to a blistering 400 feet per second which makes it an excellent choice for hunting deer and other large game animals.
We also really like that the crossbow features an automatic safety that is combined with anti dry fire capabilities, ensuring your safety when firing this crossbow.
A powerful and fast shooting crossbow that's great for deer hunting and more!
Length is 35.5

″

and Width (axle-to-axle) is 15

″

(

Cocked

), and 19

″

(

Uncocked

)
A

6

lbs. crossbow having a draw weight of

185

lbs
Built-in ACUDRAW Cocking Device reduces draw

–

weight by 50%
Shoots arrows at the velocity of 400 FPS,

40 feet per second faster than the

previous

model
ProView 3x Scope

features three crosshairs and four dots calibrated for up to 50 yards
Comes with a quiver and 3 XX75 arrows in the package
For a mid-priced hunting crossbow that is ready for the tree stand right out of the box, the Wicked Ridge Invader 400 is a tough act to follow.
It doesn't take much practice to be able to shoot quickly and accurately with this crossbow. It's a great option for deer hunters and has plenty of power for larger species as well.