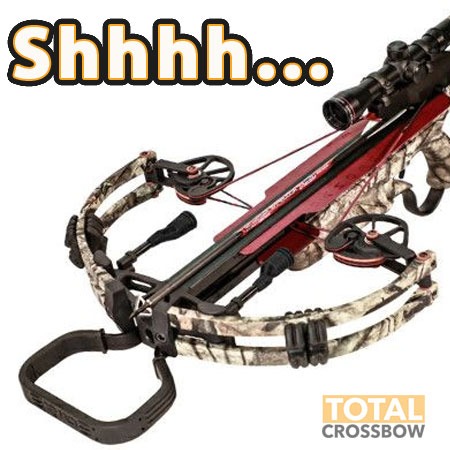 As a crossbow hunter, you probably know the significance of selecting a quiet and quality crossbow. Many hunters want to know what the quietest crossbow is because they can be notoriously loud when fired.
A noisy crossbow puts the hunter at a disadvantage because unlike a rifle where the projectile is traveling faster or at the speed of sound, a crossbow arrow is much slower.
If a crossbow is loud, it can startle the animal being shot at, allowing it to move or duck out of the way resulting in a miss or injury.
What is the Quietest Crossbow For Hunting?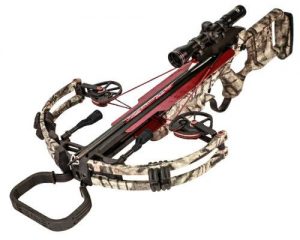 The CAMX A4 Crossbow is considered by many as the quietest crossbow. It has advanced noise suppression features to dampen loud noise and keep the xbow quiet when fired.
CAMX A4 is considered by many hunters as one of the best low noise xbows to buy in the industry.
It is famous for exceptional accuracy as well as excellent durability. The modern Cam A4 suspension system has a patent-pending and innovative inboard cam system. (1)
The system also includes a unique swing arm design, with four axles mounted on vibration-free limbs designed to lower shock and noise.
The CAM A4 is also ultra-compact and can fire arrows up to 370 feet per second. It is one of the fastest American made xbows on the market.
The A4 suspension system provides blazing speeds while offering the user a smooth and whisper quiet shooting experience. As you can see, the A4 has taken crossbow quietness and durability to new levels.
Compare Prices On Reverse Draw Crossbow Brands
Indeed, the shooting experience you encounter while using this crossbow is comparable to none. Here are the main features of this ultra-low noise xbow:
Noise Dampening A4 Suspension System
The A4 is designed for a vibration free finish at the bottom of the shot. The cam position is usually at ninety degrees when the crossbow is cocked.
When the arrow moves forward, and the string hits the bumper pad one time, the suspension system can catch up to the shot.
While the crossbow produces a speed of 370 FPS, you will realize that it hardly generates any noise or vibration.
• PAR (Pivoting Arrow Retention) System
A4's patented PAR system gives consistent and steady pressure on the arrow. This design ensures that the shaft is held down firmly and also prevents it fall out of the crossbow rail even with a strong and direct impact at the front end.
• Limb Technology
CAMX A4 includes a 3-layer laminated split-limb design. The A4 limbs are known to be armor tough.
Both sides of the limbs contain laminated glass skins to cover all exposed fibers. To guarantee longevity and durability, the ends of the limbs include ballistic nylon tips.
• Cocking and De-cocking Sled
Yes, you can de-cock CAMX A4 crossbow. If you had an unsuccessful hunt and it's time to head back home, there is no reason to carry an extra de-cocking arrow or target in your pack.
Irrespective of where you are, CAMX A4 enables you to quickly and safely de-cock your crossbow.
Why You Might Consider The Ultra Low Noise CAMX A4 Xbow
1. It's Designed With Low Noise Functions
The suspension system of A4 includes a patent-pending swing arm system that ensures that the cable, cams, and string stay inside the tips of the limbs. This innovative system reduces noise, maximizes durability, and eliminates vibration.
2. It Has Advanced Safety Features
The A4 comes with two essential safety features. It has a Thumbsaver that protects the users' finger all through the entire flight path of the arrow. Also, it includes Thumbsaver II to protect you from the cables.
3. It Offers A Quiet and Accurate Shooting Experience
The CAMX A4 doesn't rely on speed alone as that only solves partial problems. The A4 crossbow is designed to be a complete tool as it is stealthy quiet, accurate, and pleasant to shoot with noise free and precise results.
How To Make A Crossbow Quieter?
Crossbows can output a significant amount of noise when fired since they produce great force and power from short and highly compressed limbs.
If you are a hunter and want to improve your chances of filling your tag, it is wise to ensure that your crossbow produces as little noise as possible.
A quiet crossbow often times allows for several shots at the same animal without alarming other animals in the field.
Here is how to make your crossbow quieter:
1) Install a string and cable dampening system
This will decrease string and cable slapping noise. You can install dampeners to the bolt-retention spring, limbs, cable, as well as the crossbow string.
Noise reduction dampeners can also be installed on the foot stirrup and other accessories such as quiver to reduce vibration.
Installing xbow string silencers is probably the fastest and easiest method of lowering noise.
Generally, the technique involves reducing the vibration as much as possible to dampen noise via rubber inserts or string ties.
2) Shoot heavier crossbow arrows to quiet the crossbow
Another tactic to quiet your crossbow is to use heavier arrows. Since much of the energy generated during firing is imparted to the heavy bolt, there will be little energy to make the crossbow vibrate.
Also, heavy bolts can relieve the excess stress contained in the crossbow limbs while still maintaining its accuracy.
3) Keep the crossbow well lubricated to dampen noise
When shooting, it is advisable to use a well-lubricated crossbow as it is less prone to having the strings separate due to wind resistance and wear. In the end, this results in fewer vibrations and an increasingly silent shot.
4) Shoot a heavier broadhead to decrease xbow noise
Irrespective of your crossbow's performance and kind of arrow you use, broadhead weight can play an essential part in noise suppression.
Since the crossbow arrow kills an animal by causing substantial blood loss, not by shock, you should use a broadhead that is heavy and razor-sharp.
Compare Prices On Reverse Draw Crossbow Brands
A heavy broadhead makes the arrow heavy, and this makes it absorb more energy during a shot. It is this absorption of energy (and potential noise) that makes the crossbow quieter.
5) Use rubber sound dampening string whiskers
You can dampen the vibration of your crossbow by installing rubber string whiskers around the bowstring. The filaments are typically thin, long, and spaghetti-like pieces of rubber.
The installation of these accessories is pretty simple, as you only need to tie them at equal distances away from the nocking point and in an overhand knot.
Other Quiet Crossbow Models To Consider
---
---
---
---
---
---
---
---
What is the quietest crossbow is a great question to ask when considering an xbow to buy for hunting. While the CAMX A4 is probably the quietest xbow on the market, it's essential not to overlook what can be done to make any crossbow create less noise from string and cable slap.
By keeping your xbow well lubricated, adding a string and cable dampeners, and tieing rubber string silencers to the string, even the loudest crossbow can be made much quieter.
Just remember that no matter how whisper quiet your crossbow is, the animal you are shooting at is probably going to hear the shot regardless.
So it's vital that you keep your shots to distances that you are comfortable with and are confident you can get the arrow in the vitals every time.