Crossbow games are becoming increasingly popular on PC, Android, XBOX and PS3 and PS4 game consoles. Ever since they appeared on the market, crossbow hunting games have been very popular among people of all ages. Not only are they fun and entertaining, but some feature enough realism to keep hardcore crossbow hunters happy even during the off season.
There are several crossbow games on the market, which can cause a bit of confusion when it comes time to deciding which ones are the best. There are 5 games, in particular, that have been able to stand out from the crowd due to their attention to detail, graphics and innovation. To this day, they are still selling like hotcakes, and it doesn't appear that sales are going to slow down anytime soon, especially considering the growing popularity of archery and bow hunting.
Top 5 Crossbow Hunting Games
Deer Hunter 2016
The Deer Hunter series has been very popular, but the game from 2016 has taken the other games in the series by storm with better graphics, more realism and better attention to detail and animal AI than ever before. Previous versions eclipesed more than 10 million downloads, but it appears that this edition is going to beat it. You are provided with a variety of different add-ons and countless game animals to hunt with your gun, bow or crossbow. You will never get bored playing it. It supports Android and iOS devices as well as PS4 and XBOX consoles as well as PC.
Crysis 3
This game supports Xbox 360, PlayStation 3, and Windows. It is a first-person shooter type of video game that is set in the year 2047. It takes place in New York City. Many gamers have label this game as one of the most adventurous FPS types to play, and we definitely agree! This isn't a hunting game though, it's strictly a FPS crossbow game with lots of action.
The Hunter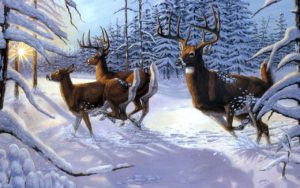 This game has received numerous positive reviews from gamers and hunters around the globe as both a hunting game and as one of many great crossbow games. The base game is 100% free to download and play. It is up to you to opt for a subscription or not. With The Hunter, you will chase after a variety of different game animals, including black bears, turkeys, elk, and the list goes on. Will you go empty-handed or have a successful kill? To not come home empty-handed, some players opt for multiplayer mode and thus have somebody to help them. This platform goes hand in hand with PC users and is one of the best received crossbow games.
Bass Pro Shops: The Hunt
This game has been considered to be extremely entertaining. A lot of newbies start with these Bass Pro Shop crossbow hunting games and then work themselves up. You will have a variety of animal species to hunt for. This game supports Wii and Xbox 360.
Cabela's Big Game Hunter: Pro Hunts
This platform is for Xbox 360, Wii U, PlayStation 3, and even Windows. Many have considered this game to be the best one of the Big Game Hunter series. It is primarily for single-player. Once you begin to play it, you will be able to seek the advice of veteran hunters for tips and advice on tagging different species of game animals. Crossbow hunting games don't get much batter than this.
The Best Crossbow Games Are Getting Better
As crossbow hunting becomes increasingly popular, more and more publishers are looking at crossbow games and crossbow hunting games as part of the mainstream. While none of the titles above focus specifically on crossbow hunting, the option to use a crossbow and head out into the wilderness on a hunting trip is available in most of the titles.