If you are searching for an affordable reverse limb crossbow, the Excalibur Matrix Grizzly recurve crossbow we review here is a great choice.
For design simplicity, and ease of use, it's tough to beat a recurve limb crossbow. While they may not produce record-breaking FPS, there is something to be said about
This crossbow package is a basic nuts and bolts style recurve crossbow that shoots fast enough to kill any large game animal out to 40 yards and more while remaining compact and super light.
The good thing is that the manufacturer's unrivaled customer service backs this package.
Excalibur Matrix Grizzly Features
[wpsm_woobox id="1143″]
This crossbow package ships with everything you need to begin hunting, including a simple and easy to read the user manual that makes assembly a snap.
The manual will give you steps to follow so you can get the Grizzly xbow assembled fast to start practicing quickly.
The included Vari-zone scope gives you precise readings to allow you to aim and plan your next shot at a variety of distances. The scope is of fairly decent quality and is good enough to get the job done in most conditions.
You can quickly load and set your arrows in this crossbow thanks to its rope cocking mechanism. The good thing is that it has a short 11.5-inch power stroke, which really helps with drawing the xbow.
Yes, the Grizzly is a bear to draw compared to most compound xbows, but the short power stroke means you don't have to fight the string for very far.
This package also comes with one-inch rings and convenient quiver to allow to keep your arrows nearby and at the ready.
Specs From User Reviews of the Matrix Grizzly Xbow
Draw Weight
The draw weight on this crossbow is 200 pounds. Even with the included rope cocking ice, a draw weight of 200 lb is quite a lot for a youngster or smaller frame person to pull back unless they are reasonably fit.
Generally, amateurs are advised not to start using such heavy draw weights on their first crossbow. However, if you are strong enough and want to utilize the rope cocking device, you should have a reasonably easy time using the Matric Grizzly.
Length
The crossbow includes a compact design that measures thirty-three inches. This length is perfect for use in cramped hunting blinds and tree-stands.
You will also enjoy the convenient 'thumbhole' stock design that offers you a comfortable and safe place to rest your hands away from the string. Incorporating an innovative design that is easy to use and lightweight, this crossbow lives up to its expectations.
Width
When at full draw, Excalibur Matrix Grizzly crossbow measures 26.88 inches while it measures 30.62 inches while uncocked.
Weight
Tipping the scale at an astonishingly light 5.5 pounds, the grizzly crossbow is very easy to manage when moving through the woods and other brush while hunting. In fact, you may not even notice that you are carrying it.
As a beginner, one is recommended to acquire a hunting crossbow that weighs seven pounds or even less.
Buying this type of crossbow allows you to carry it through the thickets and woods for a prolonged period without having to worry about its weight.
With the Matrix Grizzly, you don't need to worry since 5.5 pounds for any crossbow is super light.
Shooting Speed (FPS)
The Excalibur Matrix Grizzly does not boast supersonic speeds, but it will undoubtedly get the job done on the hunt thanks to its maximum firing rate of 305 FPS.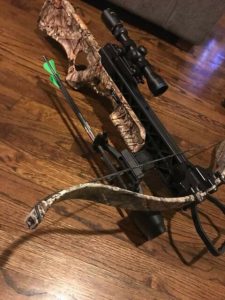 The Excalibur crossbow company is proven to make compact and high-end crossbows. The manufacturer isn't typically concerned about manufacturing the fastest speediest shooting crossbows since speed is often overrated when it comes to designing and engineering a reliable an affordable hunting crossbow.
Is Excalibur Matrix Grizzly a good crossbow to Use When Hunting?
Yes, since it was designed for the precise purpose of being a compact, affordable and lightweight hunting crossbow that a user can rely on for build, durability, and accuracy.
The Matrix Grizzly xbow may not boast massive speed, but it still offers sufficient speed to kill any big animal.
Incorporating a well-built and strong design and Mossy Oak Break-up Country camouflage pattern, this crossbow blends in well with the fall woods.
Also, it isn't damaged easily. The recurve design features fewer moving parts than compound crossbow designs. This simplicity lends itself to fewer issues when one is in the field hunting.
The lightweight feature also makes it manageable for any sized hunter and is a great feature to have when hunting on the move or hiking long distances to a hunting blind or tree-stand.
And having the option to quietly un-draw the xbow is a great feature to have while hunting.
[wpsm_divider top="80px" bottom="80px" style="double"]
[wpsm_titlebox title="Excalibur Matrix Grizzly Crossbow Review" style="3″]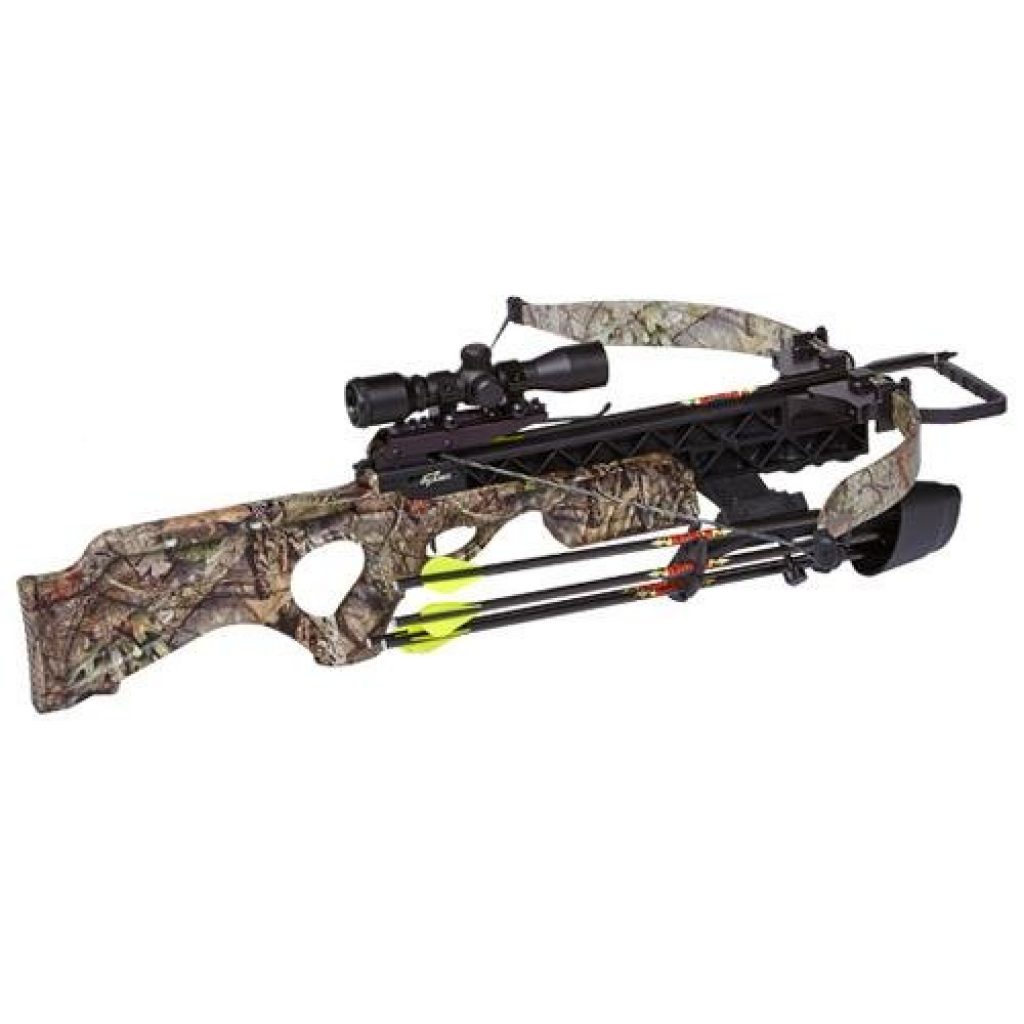 [wpsm_reviewbox title="Matrix Grizzly Recurve Xbow Ratings" description="A great choice for crossbow hunters on a budget looking for a solid entry-level xbow that is adjustable to fit a variety of shooters. The draw weight is a bit of a bear but it is not horribly bad and even smaller shooters can usually handle it." criterias="Design: 8;Durability: 9;Speed: 7;Accuracy: 7;" pros="It boasts a well-balanced and lightweight design;It includes an attachable quiver and four arrows;It is incredibly easy to assemble out of the box;Easy to change the string when out in the field;The crossbow can be quietly de-cocked without having to fire a special arrow or target;It is affordable, simple, and ultra-durable" cons="No anti-Dry fire mechanism;It is quite noisy because it does not embrace any noise suppression system.Some users allege that the scope fails to hold zero after being fired a couple of times;it is a bit of a chore to draw even when using the rope draw device;" ]
Buy on Amazon
[/wpsm_titlebox]
[wpsm_divider top="80px" bottom="80px" style="double"]
Conclusion
The Excalibur Matrix Grizzly is probably one of Excalibur's most affordable crossbows, and it offers what all hunters want in a lightweight, quality, and compact recurve xbow design.
While the draw weight is not for the light of heart, and with no compound crossbow limb let-off to ease the pain even using the rope draw mechanism can be a chore for smaller folks and youngsters.
The trade-off is durability, very little required maintenance, and ease of use. With fewer moving parts to wear out and break, the recurve crossbow design has a lot to offer, and for the money, The Excalibur Matrix Grizzly is an excellent choice for anyone looking to buy a recurve limb xbow for hunting.
UPDATE: a crank to draw device is now available for the Matrix Grizzly Crossbow. While we mention in this review how this crossbow can be difficult for smaller folks to draw, the rope draw aid solves this issue, making the Grizzly a great choice for anyone looking for a durable and dependable hunting xbow.