We review the upgraded Ten Point Titan SS crossbow which has been an excellent buy for new and experienced crossbow hunters.
The Titan SS features the AcuDraw cocking mechanism with most packages available for sale. This self-retracting rope cocking device is easy to use. It can help reduce draw weight by up to 50 percent.
The AcuDraw rope draw system features an easy to use hand crank which folds out of the rear of the stock.
[wpsm_woobox id="1084″]
It's an excellent system for bringing the Titan SS to full draw quietly and with far fewer movements. Crucial for tree stand hunting or when hunting in tight ground blinds.
While the Titan SS can be purchased without a crank style rope draw mechanism, if you plan to hunt from a tree or small ground blind or elevated box blind, consider it a must.
There is nothing worse then being up high in a tree stand or in a cramped hunting blind while struggling to draw your crossbow with a traditional foot stirrup rope draw device which often requires one to stand up.
All the movement is bad for stealth and can be dangerous when up in a tree.
The Titan SS xbow package also includes a 3-arrow instant detach quiver, 3X Pro-View 2 Scope, and Pro-Elite carbon arrows.
The 3x Pro-View Scope isn't going to win any awards for clarity or light transmission, but it is certainly good enough to get the job done for shots out to 50 yards.
The scope is easy to adjust and seems to hold zero very well even after bumping the xbow around a bit.
The adjustable comb height, Fusion S stock, and two-position butt plate make this crossbow a must for hunters at any skill level.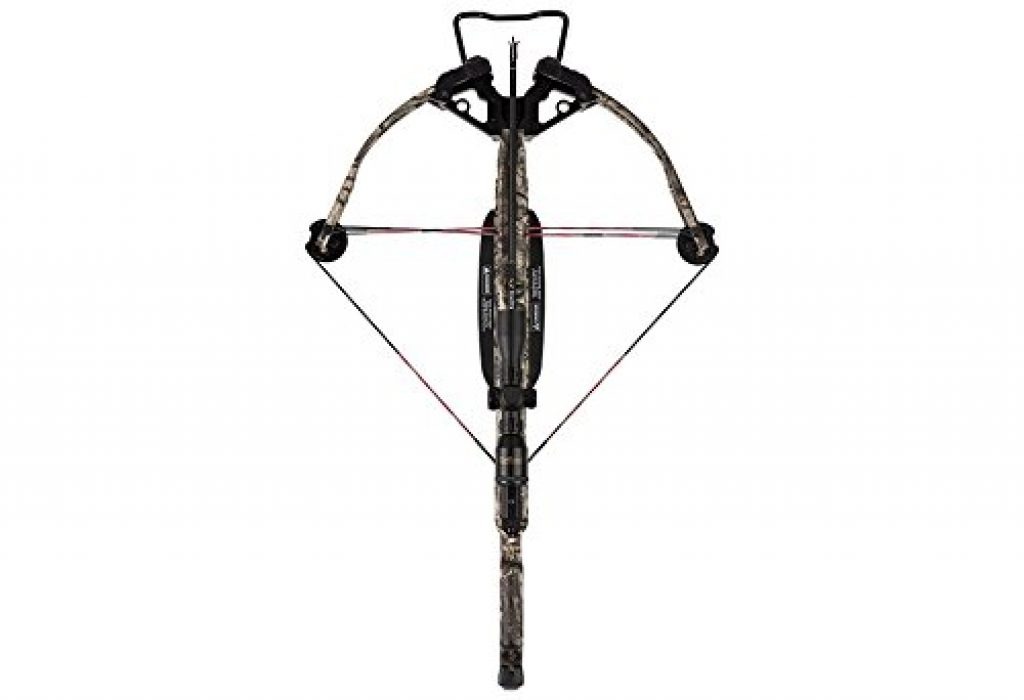 The adjustable stock is an excellent feature as it allows the shooter to dial in the stock to the point where the crossbow shoulders quickly and efficiently while providing better eye relief when sighting through the scope.
Having stock adjustments is also a great feature to have when switching from warm hunting months to winter when bulkier clothing is worn.
The stock also allows for more natural transitions between younger and older shooters and shooters of different sizes.
The Titan SS is not a super compact crossbow like the Barnett Vengeance or Ten Point Stealth, but it's also not nearly as expensive as these super compact crossbows are.
Think of the Titan SS as a high end starter xbow that is a great choice for beginners who want a solid package that is durable and will not require a ton of upkeep. While the Titan SS doesn't shoot at blistering fast speeds, it is plenty fast and powerful to drill deer, elk and other large game animals out to 40 yards.
Some crossbow hunters report effective kills out beyond 50 yards with the Titan SS. While this is certainly possible, it's important to remember that the amount of kinetic energy tapers off quickly when firing shorter crossbow arrows.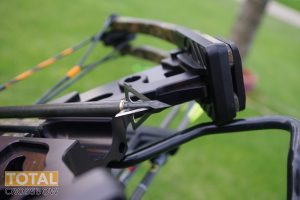 When a shot is taken past 40 yards a total pass through can be a risky proposition, and without a pass through shot there can be minimal blood loss which is never a good thing.
If you intend to shoot the Titan SS out beyond the 40 yard mark it is highly suggested you use standard broadheads ve mechanical broadheads.
Mechanical broadheads eat kinetic energy when they open upon impact. With kinetic energy already bleeding off at long distances, you don't want the added burden of blades opening thrown into the equation.
Fixed blade broadheads are your best bet when hunting at ranges beyond 40 yards with the Titan SS xbow, especially if you are hunting larger game animals such as elk or moose with thicker hides that require more penetration for a complete pass through shot.
SPECS of Titan SS Crossbow Reviewed
Specs:
Draw weight: 175 lbs
Length: 35″ with stirrup
Width: 18.5″ drawn, 21.5″ undrawn
Weight: 6.7 lbs without accessories
Power stroke: 12.5."
Shooting Speed: up to 340 FPS
[wpsm_divider top="80px" bottom="80px" style="double"]
[wpsm_titlebox title="Ten Point Titan SS Crossbow Review" style="3″]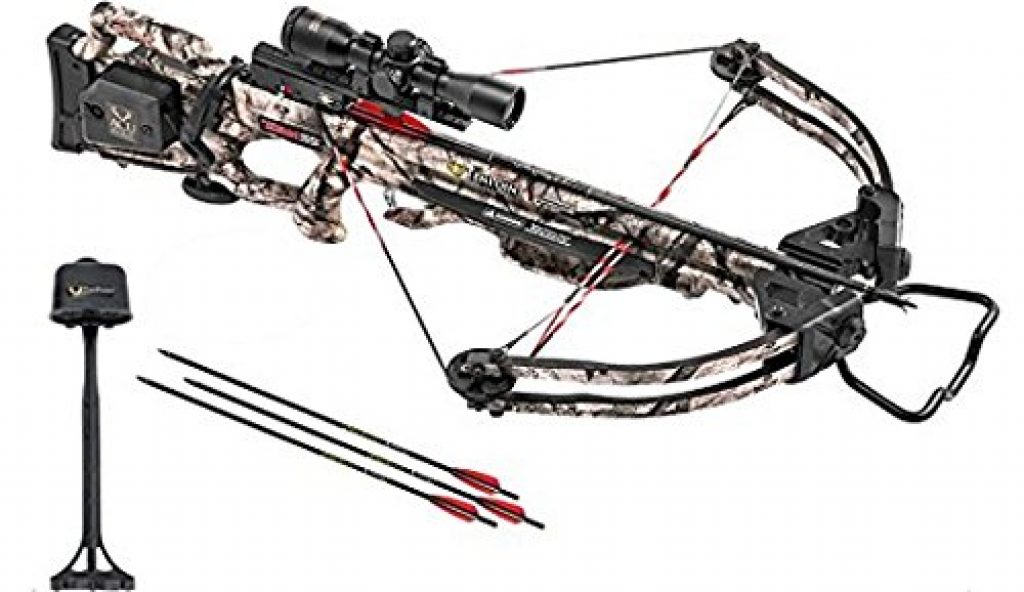 [wpsm_reviewbox title="The Final Word" description="A great choice for crossbow hunters on a budget looking for a solid entry-level xbow that is adjustable to fit a variety of shooters. The draw weight is a bit of a bear but it is not horribly bad and even smaller shooters can usually handle it." criterias="Design: 8;Durability: 8;Speed: 7;Accuracy: 8;" pros="Durability. This crossbow can withstand harsh weather. It can also survive drops from 15 feet or more in perfect conditions.;Ease of use. The AcuDraw feature makes cocking the bow incredibly easy. People of any age or ability can draw the string back with little to no effort. It only takes a few seconds;Great for first-time users. The Titan SS is a great crossbow for first-time users. It's simple to assemble. The included manual and DVD provide easy to follow, step by step instructions;It's very accurate. This crossbow is very accurate when bore sighting at 20 yards and farther. Some people have had success hitting targets at up to 50 yards away;It's fairly fast. At a fire rate of 340 feet per second, it's quick enough for hunting any kind of legal game;Fairly Quiet" cons="Not everything is included. The basic package doesn't include the cocking device or arrows. Those items are extra, which can add to your overall purchase price. It doesn't come with a case. You don't need to buy one, but it's recommended to preserve your crossbow;The standard optics are only 3x. Not the best, but it gets the job done;The price is rather steep. This model starts at $700 for the basic model, depending on where you buy it from. Expect to pay more for upgraded models and additional features;Lacks a short length and width for hunting in tight blinds or brush conditions;The draw weight's not ideal for everyone. People who have a history of back or arm problems, and people with disabilities may struggle with this one. It's designed for people who have no such issues;" ]
Buy on Amazon
[/wpsm_titlebox]
The Titan SS Crossbow offers something for everything. Whether you prefer target practice or are a veteran hunter, you'll enjoy how quick and easy this model is to use. Setup only takes a few minutes. It's relatively lightweight, durable, and easy to store and transport.
The Titan SS is competitively priced and offers more updated features than similar crossbows on the market today.
When you buy the Titan SS crossbow package, we review here, make sure you read carefully what exactly is included in the purchase. There are different packages available that can significantly affect what you get.
The "Skinny" package, for example, does not include a drawing device. Don't go thinking you got a super deal on a decked out Titan SS xbow when in fact you bought a bare-bones package that will have you purchasing add-ons to get it where you want it.
The Ten-Point Titan SS is a super solid choice for a beginner or someone looking to move into crossbow hunting from traditional archery or rifle.
While you might want an xbow that shoots faster and hits harder for game like elk or moose, for deer hunting the Titan SS is an excellent choice for shots out to 50 yards.