This Killer Instinct Pro 9.5 Crossbow review will shed light on the myth that one needs to spend thousands of dollars for a decent hunting crossbow.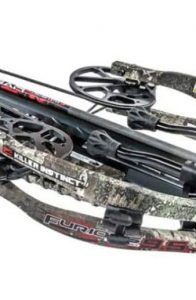 Coming in at under $500, the Pro 9.5 isn't loaded with the latest, greatest hi-tech features. But it is loaded with value and plenty of performance for slapping a tag on any North American game animal.
Is The Killer Instinct Furious Pro 9.5 A Good Hunting Crossbow?
The Killer Instinct Furious Pro 9.5 Crossbow that we shot during our review is designed to be the perfect hunting companion. This crossbow is an impressive mix of speed and power designed to dominate almost any hunting situation at a low price point which is always nice for the wallet!
Prices pulled from the Amazon Product Advertising API on:
Product prices and availability are accurate as of the date/time indicated and are subject to change. Any price and availability information displayed on [relevant Amazon Site(s), as applicable] at the time of purchase will apply to the purchase of this product.
Its low-profile frame cocks down to a mere, 9.5-inches wide, which looks incredible and allows for improved maneuverability and quicker target acquisition.
The Killer Instinct Furious Pro Crossbow is the most accurate, most challenging, and fastest crossbow in the Killer Instinct Pro series line.
With its incredible 400 FPS velocity, it will effortlessly pick apart your prey at distances out beyond 40 yards with ease. This crossbow was designed for the disciplined hunter who wants an uncompromising hunting experience without sacrificing comfort or speed.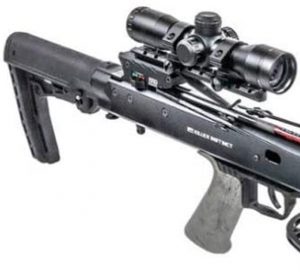 The CNC-Enhanced Aluminum flight rail is designed for extreme precision and reliability, allowing for pinpoint accuracy at any distance.
The Pro-Series Trigger for s 3-pound break with a relatively smooth pull for increased arrow control, shot after shot. The Killer Instinct Furious Pro 9.5 crossbow is all about extreme performance and is ideally suited for 100 Grain Hunting Broadheads.
While the trigger doesn't squeeze like a custom rifle trigger, it is fairly decent for a low-cost crossbow trigger and works well enough for deer hunting and for crossbow hunting other large game animals.
The crossbow is equipped with a Hogue Grip, and an adjustable length AR-style buttstock. The adjustable stock is a great feature as it accommodates shooters of different ages and sizes.
Killer Instinct Pro 9.5 Crossbow Features & Benefits
Lightweight, accurate and deadly crossbow with excellent power to weight ratio.
Ultra-narrow frame (great for hunting in blinds and tree stands)
32.5″-35″ long and 9.5″ (Cocked), 14.125″ (Uncocked) wide
A 7 lbs. crossbow having a draw weight of 185 lbs (very manageable draw weight)
Shoots arrows at the velocity of 400 FPS (feet per second)
Pro-Series trigger and CNC-Enhanced Aluminum flight rail
Includes nine-pack of HME Fixed Blade 100 Grain Hunting Broadheads
Made in the USA
Killer Instinct Pro 9.5 Review Conclusion
For deer hunting on a budget, the Killer Instinct Pro 9.5 Crossbow is a great choice for shots under 40 yards. When coupled with high-quality stainless steel blade broadheads this crossbow is a great choice for hunters looking for value and performance.