If you're on the hunt for a super accurate sub-compact hunting crossbow that pushes the 400 FPS mark with the ability to stack arrows in under 1-inch groups at 100 yards, this Mission Sub-1 XR review is worth a read!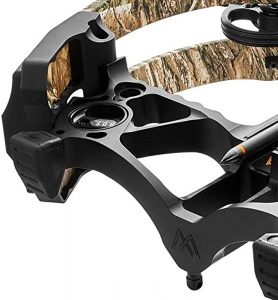 Matthews is on a Mission with the Sub-1 XR crossbow. This is another great example of how a well-rooted and stable compound bow company with years of experience is attacking the crossbow market and not taking any prisoners!
With a shooting speed of up to 410 FPS the Mission Sub-1 XR is one of the fastest crossbows made by Mission archery and also one of the most accurate.
What makes the Mission Sub-1 XR So Special?
The Mission SUB-1 XR is engineered to shoot accurately while also keeping string slap noise down to a minimum. The new "Benchmark Fire Control" system allows the shooter to de-cock the crossbow by simply pushing a button.
The match-grade trigger is Factory tuned to break at around 3 pounds. This is a great feature that allows for smooth shooting and rifle-like trigger performance while target shooting or out hunting.
Prices pulled from the Amazon Product Advertising API on:
Product prices and availability are accurate as of the date/time indicated and are subject to change. Any price and availability information displayed on [relevant Amazon Site(s), as applicable] at the time of purchase will apply to the purchase of this product.
The cheekpiece of the Mission XR is also fully adjustable. This is a great feature as you are able to customize the overall fit of the crossbow and it can be easily adjusted for different shooters sharing the crossbow or for use in a variety of shooting and hunting environments.
No Bow Press? No Problem!
The B.O.S. limb resistance system allows the resistance to be winded way down. Without stress on the limbs, maintenance can be done on the crossbow without having to have a bow press handy.
You can fix the cables or change the string in the field with no bow press around. This can be a huge advantage when out on hunting trips where tools or an archery shop is not located nearby.
Mission Sub-1 XR: Subcompact Crossbow Review Specs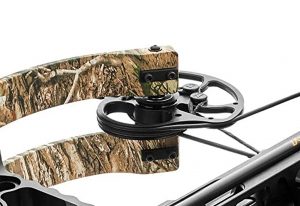 And this crossbow is quite compact measuring only about 31 inches long and when fully drawn from axle to axle it measures only about 9.5 inches. This sub-compact design makes it a great choice for treestand hunters and also for hunting in box blinds or ground blinds.
The specially-designed cams are engineered to roll in careful unison creating an 80% let-off which makes the crossbow easy to draw and also much easier to uncock at the end of a hunting trip when it's time to put the crossbow back in the case.
The limbs are quite short and also wide, providing a decent amount of torsional rigidity which helps to reduce vibration and improve accuracy.
The crossbow uses something called controlled acceleration to prevent the knock of the arrow from tilting upwards or downwards when the crossbow is fired. The machined riser helps to keep the arrow in place and creates a super-accurate and fast launch system that is finely tuned for extreme accuracy.
The two-stage arrow retention device allows the shooter fast and easy loading yet also pins the arrow down enough during acceleration to keep it positioned straight and in line with the string, allowing for incredible accuracy out to 100 yards.
The Sub-1XR Crossbow is available in Realtree camo or in a matte black finish that is non-reflective for hunting situations
If you decide to go with the entire hunting kit the crossbow comes fitted with a high-quality Hawke scope featuring a ballistic ranging reticle and clear, anti-fog optics that work well in a wide variety of low-light situations From Dusk to Dawn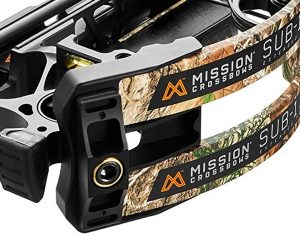 The scope is mounted to the crossbow with high-tensile aluminum rings and it even features flip-up dust covers for keeping dust, rain, sleet, and snow from clouding the optics while hunting in adverse weather.
A nicely machined level is also mounted on the bow to ensure the shooter is keeping the crossbow from being tilted left or right, helping with accuracy especially at long ranges.
The kit version also ships with three hunting arrows and a uniquely designed cam-style quiver.
We really like this quiver and how quickly and easily it can be mounted and dismounted from the crossbow with a simple twisting motion that is also very quiet and does not require a whole lot of movement to engage or disengage.
Prices pulled from the Amazon Product Advertising API on:
Product prices and availability are accurate as of the date/time indicated and are subject to change. Any price and availability information displayed on [relevant Amazon Site(s), as applicable] at the time of purchase will apply to the purchase of this product.
We also are very fond of the Benchmark fire-control systems' ambidextrous safety.  The buttons on the safety are large and easy to access. And since they are ambidextrous the safety can be clicked on and off easily by left and right-handed shooters without any worry or wondering if the safety is on or off.
Draw The Mission Sub-1 XR Fast With The RSD
Furthermore, the safety is automatically engaged when the crossbow is fully drawn and The Benchmark Fire Control System is able to sense the presence of an arrow. If an arrow is not present the crossbow cannot be fired. We think this is a great anti-dry fire system and is extremely important for the safety of the shooter and anyone standing nearby.
This crossbow can be easily drawn with a rope cocking system, or by using the fast and easy to RSD (Removeable Silent Draw) crank style cocking device. We recommend the crank-style cocking device for people who intend to hunt from tree stands. This is not only a safer option but also keeps movements down to a minimum
The way the foot stirrup is cleverly machined into the crossbow riser is another awesome feature that we really like. Not only does it help to keep the crossbow sturdy and prevent it from twisting when using the rope cocking device but it also keeps the overall length of the crossbow very short without having the foot stirrup hanging off the end. This prevents the crossbow from feeling nose heavy while shouldered and makes it feel more like a rifle.
Mission Sub-1 XR Review: Warranty Details
The Mission Sub 1XR is also backed by Mission crossbows conditional lifetime warranty.  It's certainly hard to complain about that! That's the type of quality and belief in workmanship and engineering that really makes Mission crossbows stand out from the crowd.
If you're looking for a crossbow capable of firing over the 400 feet per second mark in groups out to 100 yards this is an excellent choice!
While it's not the smallest option on the market the sub-compact design with the adjustable stock makes it an awesome choice for a wide variety of hunter and shooter sizes and the ability to provide cable and string maintenance in the field without a bow press can be a huge advantage.
One of the major drawbacks of compound crossbow hunting is the threat of accidentally breaking a string while out hunting. In many cases, this could be the end of your hunting trip. And if you're out west on a dream elk hunt that could be a real buzz kill!
The ability to change strings in the field with no bow press is an awesome feature and could also be a trip saver!
Features & Benefits Of The Mission SUB-1XR Crossbow
The frame layout of the Mission SUB-1 XR is quite compact. Making it a great choice for treestand hunting or when situated in small box blinds or ground blinds.

The Match Grade trigger is factory tuned to pop at 3LBS. It's not quite rifle quality but for a crossbow it does feel quite light and crisp.

The revolutionary Sub-1 XR removes horizontal nock travel and provides smooth arrow launching and cocking and de-cocking without much effort. With its C.N.C. machined rail, the crossbow shoots better because of the elimination of vertical nock travel. This is a brilliant engineering feature!

The stock is adjustable and can be configured in six varied lengths, as well as a 1.25-inch comb adjustment that delivers a precise fit for better comfort and aim.

The optional RSD™ Draw System from Mission® Crossbows provides an exceptionally smooth and quiet draw every time. 

Shot noise is very quiet and accuracy is truly sub 1″ groups at 100 yards as long as there's not much wind. Very impressive.
Mission SUB-1XR Crossbow Review Conclusion
Is it the fastest crossbow on the planet? No! But at around 410 FPS, the Mission Sub1-XR crossbow is more than fast enough to knock down any North American game animal.
This crossbow is a great choice because of its accuracy, safety features and overall engineering. The ability to change the string on a compound crossbow while in the field without a bow press is simply unheard of until now.
This feature alone can be a real game-changer. Remember, in the excitement of aiming at a large buck or bull, it's easy to accidentally clip the string with a broad head blade.  That's all it takes to snap a string!
The Mission Sub1 XR crossbow will have you spending more time hunting and less time messing around with settings and configurations. It's a solid choice for any crossbow hunter looking for premium quality specs and excellent accuracy.