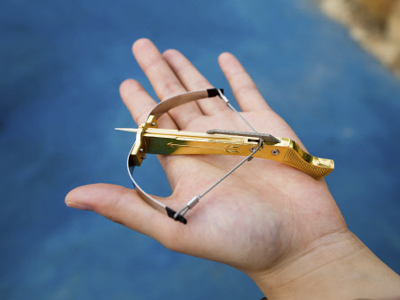 Move over fidget spinners, there's a new fad toy on the block. The toothpick crossbow has taken China by storm with hordes of kids flinging toothpicks around classrooms, restaurants, and stores. As the saying goes, it's all fun and games until someone loses an eye. Which is a legitimate concern considering some kids already have.
A toothpick crossbow is exactly what it sounds like: a pint-size, plastic crossbow fitted with a metal, grooved track that directs a small projectile, such as a toothpick, needle or nail. Any parent looking at these devices will likely get a sinking feeling in his or her chest, instantly seeing both the appeal and the danger the toys pose. People can use the crossbows to launch toothpicks for a less painful sting, or they can launch nails or needles to do even more damage.
Lightweight toothpicks are one thing, but launching needles and nails can get dangerous fast when kids are involved. The toothpick crossbows have become so popular in China that the fuzz is actually raiding stores that sell them.
"Business owners shouldn't sell toys that are physically or mentally harmful to minors," said the Administration for Industry and Commerce of Chengdu, in the provincial capital of Sichuan. "Once found, the products will be pulled from the shelves, and the businesses will be punished."
Of course, the big fear now is that kids here in the U.S. will put down their fidget spinners in exchange for these toothpick crossbows. Amazon.com has already removed them from their website in anticipation of the upcoming fad and the problems it might create here on the home front.
Invasion of the toothpick crossbows? Not yet, but chances are we'll be seeing more of these soon as the fidget spinner craze eases. Via livescience.com