This Zeiss Terra XB75 Crossbow Scope review covers everything you need to know. Zeiss is no slouch in the rifle scope market. Re-known for their superior quality optics and rugged durability, these German-engineered optics are almost always at the top of the charts when considering overall quality and performance.
While the XB line is the bottom tier of the Ziess optics family, it still offers a ton of value and outstanding build quality that won't let you down.
The new ZEISS TERRA XB75 is the first premium scope to dedicate German engineering and performance to hardcore crossbow enthusiasts. With a lightweight, rugged, compact 1" design and MC anti-reflective coatings to squeeze every last minute of shootable light out of your hunting day, the XB75 hunts as hard and long as you do.
The XB75 is the companies first entry into crossbow optics and the engineers were determined to get it right the first time with a truly unique ballistic reticle that literally takes the guesswork out of hitting the target.
While most crossbow scope reticles feature crosshair lines and or dots to represent impact points at different ranges, the ZEISS XB75 we review featured actual yard headings next to each aiming point.
The text is very small, but legible in most lighting conditions. Seeing the little "30" next to the thirty-yard hash mark, for example, serves as a great little reminder, especially in the heat of the moment when Mr. Swamp Donkey is rutting up the trail towards you. The last thing you want to be thinking about is which dot to place on the kill zone, this needs to be second nature and having the titled impact marks does just that.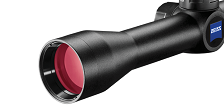 Optics-wise the Zeiss Terra XB75 is nothing short of amazing. It doesn't have an illuminated reticle. Why? Because the optics are so good it doesn't need one.
We're talking crystal clear imagery with an almost disturbing ability to turn dimly lit forest settings into day like brightness. Squeezing every available second of shootable light out of dusk or dawn is an easy task, even under cloudy conditions when hunting deep in the forest.
The XB75 isn't a compact scope, make sure the mounting rails on your crossbow can handle a scope of this length. It's much more at home mounted on a crossbow used for tree stand hunting vs stalking downed timber or dense brush.
The XB75 is FPS adjustable from 275 to 425 which turns it into a real tack driver out to insane distances. I'd never thought I'd have to worry about splitting arrows at 75 yards, but shooting through this scope makes it a legitimate concern.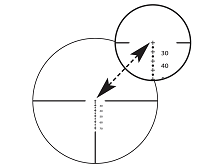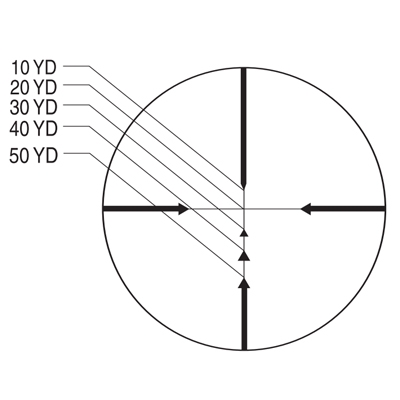 Zeiss' Terra Crossbow Scope integrates famous German manufacturing with uncompromising optical efficiency into a tough yet light in weight design. SCHOTT cup with MC anti-glare coatings produces brilliant, high-contrast pictures to help you squeeze out the last bit of light at dusk or dawn.

Ballistic reticle gives the capability to take distances as much as 75 yds. in 2.5-yd. increments. Sighting in is straightforward. Just zero into the top cross locks at 20 yds. and then transform the dial to your projected speed. Move returning to 30 yds. and take a bolt at that distance utilizing the 30-yd. cross hair.

In the event that bolt hits high, move the rate switch up to a somewhat higher rate. If it hits on the mark, switch to  a little-reduced speed before the 30-yd. sight-in is complete. Optic ring sports imprints that symbolize speed from 275 to 425 fps and magnifying from 2X to 7X. 1/4-MOA click modifications. Manufacturer's limited life time warranty.
Extremely low profile 1 inch tube design

2-7X magnification

1/4-moa adjustments provide 100% repeatability, click by click

For crossbow speeds 275FPS – 425FPS

SCHOTT glass with MC anti-reflective coatings
Ballistic reticle with yardages from 20 to 75 yds.
For crossbows speeds 275 to 425 fps
Is The Zeiss Terra XB75 Crossbow Scope Illuminated?
No it is not an illuminated crossbow scope but the Zeiss Terra XB75 optical quality is so refined illumination is not necessary. The glass in this scope seems to wring every last drop of daylight out of the sky making
What Are The Dimensions Of The Zeiss XB75?
At 11.5 inches long the XB75 does require a full size mounting rail. This is not a compact scope. It's better suited for blind or treestand hunting vs still hunting and stalking.
What Is The Zoom Range Of XB75 Crossbow Scope Reviewed?
2x-7x but the zoom ring is also the FPS adjustment which should only be set once.
At what range is the XB75 crossbow scope parallax free?
30 yards.
What is the field of view and eye relief of the Zeiss XB75?
The field of view is about 47 feet @ 100 yards and the eye relief is 3.5
Resources for the Zeiss XB75 Crossbow Scope Review: