Will the Excalibur Tact-Zone Crossbow Scope we review here increase your odds of bagging a trophy this fall?
Given the poor quality of most optics mounted standard on crossbow packages, chances are good that it will. While it's not the most expensive or fanciest crossbow scope option, it is a solid pick that is tough to beat for the price. The Tact-Zone is shorter and more compact than the Shadow Zone scope, making it a better fit for smaller crossbows.
Excalibur Tact-Zone Illuminated Crossbow Scope is one of the best choices you can get in the market if you are looking for a high-quality compact crossbow scope to add to your crossbow.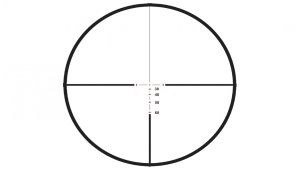 It features a half inch adjustment at twenty yards with speed adjustments of the range 275 to 410 fps making it ideal to set up and shoot with practically any crossbow.
The tact -zone crossbow scope is lower on price, but not on features.
Illumination
With five levels of red or green illumination, the Tact-Zone reticle can be dialed up or down to meet a variety of outdoor lighting conditions from low-light dawn or dusk to the full sun of mid-day.
The lower illumination settings work great for a wide variety of hunting situations without worry of any light leaking through the rear end of the scope and alerting game.
Scope Dimensions
The Excalibur Tact-Zone Xbow scope we reviewed weighs in at under a pound, making it hardly noticeable when mounted on an xbow. When handled the scope has some nice heft to it and feels very well made and sturdy.
The scope is quite compact and can also be purchased with flip-up style lens protectors which is a great option for hunting in rain or snow. How many times have you brushed into a snow-covered tree and watched the snow fall down and cloud up the lens on your scope?
Been there, done that! The little flip up lens protectors will help you avoid such mishaps.
The Tac-Zone will fit on most crossbows via the standard mounting rings included with the scope.
Quality of the Optics
Excalibur optics are entirely multi-coated for outstanding precision in any hunting conditions. The scratch-proof lenses are worry free when walking through thick brush.
[wpsm_woobox id="1932″]
With fogging as the common issue in the rainy and cold season, this crossbow scope has a nitrogen barrel that helps prevent it even during drastic temperature fluctuations.
Even when holding the crossbow scope close to one's body while carrying it through freezing temperatures will not cause any internal fogging. The optics are sealed and totally waterproof as well.
Scope Durability
The Excalibur Tact-Zone Illuminated Crossbow Scope is composed of lightweight and strong aircraft grade aluminum that covers the vital components for maximum durability guaranteed.
The matte finish on the scope prevents any reflections and is also extremely scratch, chip, and dent resistant.
Mounting The Scope On An Xbow
The scope is easy to mount with a Phillips head screwdriver to fasten the 30mm rings to any Picatinny rail. A dab of thread-lock is always recommended because crossbows can vibrate quite a bit when shot and you want the scope to stay put.
Tact-Zone Crossbow Scope Review SPECS:
Magnification
The scope features a variable zoom of 2.5X to 6X magnification. This allows you to bracket your target image at a low zoom and then dial in at a higher magnification for a precision shot that will bring down your prey.
Clarity and resolution are remarkable across all zoom levels, and the target image stays clear and crisp in all conditions due to the excellent lens parallax.
Field of View:
The estimated field of view on Excalibur Tact-Zone Illuminated Crossbow Scope is forty-five feet at 2.5X magnification and twenty feet at 6X magnification.
The lower field of view is wide enough for shooting even a target in motion, although it's never wise to shoot at a deer, elk or other large game animals that are moving fast.
Reticle:
Excalibur Tact-Zone Illuminated Crossbow Scope has an advanced reticle design of green/red rheostat illumination and an approximately 30 mm long tube. It has an etched reticle with five levels of illumination for each color.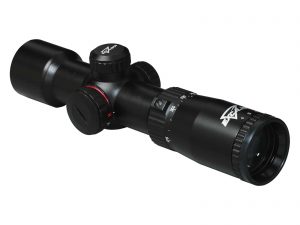 [wpsm_column size="one-half"][wpsm_pros title="PROS:"]
Adjustable for crossbows 275 fps through 410 fps.
Red-Green illuminated reticle with 5 brightness levels.
Flip-up lens caps protect optics.
Shockproof/Waterproof/Fogproof design.
[/wpsm_pros][/wpsm_column][wpsm_column size="one-half" position="last"][wpsm_cons title="CONS:"]
Flip-up lens caps break easily.
No eye-relief adjustment.
[/wpsm_cons][/wpsm_column]
Buy on Amazon
CONCLUSION
When tearing into crossbow scope reviews, we look out for different features that range from magnification, visual clarity, weight and dimensions, and others. Though it is difficult to get a scope offering all these features in one package, the Excalibur Tact-Zone Illuminated Crossbow Scope is one of the scopes that has proven to have all these features.
The optics are surprisingly good considering the Tact-Zone features a compact design vs some of it's larger competitors. The illumination adjustments on the reticle are very useable and can be dialed down to a setting that is not overly bright which can be important when deer hunting.
While many crossbow scopes we review are only useable for xbows shooting a specific draw weight, the Tact-Zone is adjustable for a wide window of draw weights and xbow speeds. This is a great feature that makes the scope much more than a one-off purchase for one specific crossbow.
If you upgrade your rig down the road, you can always throw this scope on and adjust it for excellent accuracy at almost any draw weight. This is an option that is unavailable on many xbow scopes we review.