Here's how to choose the best-illuminated crossbow scopes for deer hunting. It's important to choose carefully because optics that are internally illuminated can be a blessing and a curse.
That's right. Choosing the wrong illuminated crossbow scope can literally make or break a hunt!
Here at TotalCrossbow.com you can count on us because we are real hunters who have been hunting with crossbows and compound bows for over forty years.
Don't Buy A Cheap Illuminated Crossbow Scope
If you're shopping for an illuminated crossbow scope it's important not to go to cheap when you make your purchase.
The super inexpensive illuminated optics usually feature very low-quality lenses that perform poorly in low light conditions which is certainly not ideal when hunting.
Cheaply-made illuminated crossbow scopes also tend to have issues holding zero for any length of time. Crossbows can take a beating during transport to and from your hunting area. Poor quality optics can't take much abuse and may loose zero easily.
If you're hunting from a tree stand and intend to hoist your crossbow up with a rope this is another chance for you to bump the crossbow on branches or the side of the tree and knock the scope out of zero.
Don't skimp on crossbow optics! Pony up the cash for a higher end crossbow scope that can take a beating in the field and still hold zero!
Best Illuminated Crossbow Scopes For Deer Hunting (Editor Picks)
| Image | Title | Price | Buy |
| --- | --- | --- | --- |
| Top | Vortex Optics Crossfire II 2-7x32 Second Focal Plane Crossbow Scope Kit - XBR-2 Reticle | | Buy Now |
| Top | 1.5-5x32 Crossbow Scope, 20-100 Yards Ballistic Reticle,300 FPS - 425 FPS Speed Adjustment Red Green Illuminated Mount Included | | Buy Now |
| Top | TenPoint Pro View 2 3X Crossbow Scope (HCA-097-II) | | Buy Now |
| Top | Hawke XB30 Compact 30mm Model SR 475fps Crossbow Scope (12227), Black | | Buy Now |
| Top | TenPoint Rangemaster Pro Illuminated Crossbow Scope (HCA-09811) | | Buy Now |
| Top | Ravin R170 100-Yard Illuminated Red/Green Crossbow Scope For Use With Ravin Crossbows, Black | | Buy Now |
| Top | TRUGLO Tru-Brite Crossbow 1.5-5X32 IR Scope with Rings Black | | Buy Now |
| Top | Bear Archery X Speed Crossbow Scope, Black, One Size | | Buy Now |
| Top | UTG OP3 1.5-6X36 Crossbow Scope, AO, RGB, 130 Hunter BDC | | Buy Now |
| Top | Automatic Ranging Trajectory 1-4X24 Crossbow Scope, 3 MOA Dot, 20-80 Yards Ranging, Red | | Buy Now |
Prices pulled from the Amazon Product Advertising API on:
Too Much Of A Good Thing
Another issue we've had with low-quality illuminated crossbow scopes is the intensity of the illumination itself.
Many of brands of illuminated crossbow scopes feature a click style illumination adjustment. What we have seen in many cases is that the lowest levels of Illumination are too bright when hunting in low light conditions.
When this occurs the illumination can actually drown out the sight picture with too much light. When the light hits your eye it causes your pupils to dilate, making it more difficult to see the crosshairs and the animal you are aiming at.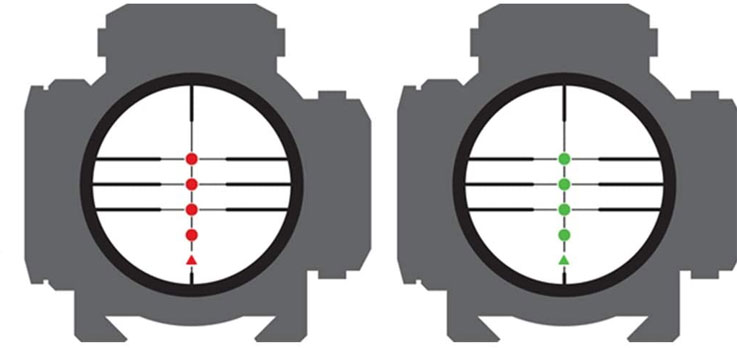 Because of this we always recommend optics with highly adjustable levels of brightness. It doesn't really matter how many different colors you can choose to illuminate the scope reticle with. Focus less on color selections and more on the availability of brightness options when choosing this style of crossbow optics.
Rheostat Adjustable Crossbow Scopes Are Top Picks For Deer Hunting
The best-illuminated crossbow scope models will feature a rheostat style dial that doesn't actually click but functions more like a dimmer style light switch one might encounter in a home. This allows for minute brightness adjustment options that are ideal for low light and also ultra-bright hunting conditions.
TenPoint Pro View 2 3X Crossbow Scope (RheoStat)
PERFECT SIZE FOR A CROSSBOW: 8.5-inches long

7/8 scope mounting rings INCLUDED

FULLY-COATED 3x32 optics

Has non-illuminated black dots that can be turned on for either red or green rheostat-controlled, ILLUMINATED COLOR DOTS with 5 light intensities each

Crosshairs for 20, 30, and 40 yards with a 50-yard dot (fourth dot is free standing, just below the 40-yard crosshair)
Prices pulled from Amazon Product Advertising API on:
Product prices and availability are accurate as of the date/time indicated and are subject to change. Any price and availability information displayed on [relevant Amazon Site(s), as applicable] at the time of purchase will apply to the purchase of this product.
Another feature that can be a real money-saver is an auto-off function.
This is because 9 times out of 10 most hunters forget to turn off the illumination on the scope at the end of a hunt. The result is almost always a dead battery during the next hunt which can be a real bummer if you don't have replacements in your hunting pack.
In fact, it's a good idea to buy extra batteries and have them at the ready case this happens.
It's also important to understand that high-quality optics is more important than illumination. By this we mean you are better off with a standard non-illuminated crossbow scope featuring better quality glass versus an illuminated scope made with poor quality glass that will perform poorly in low light conditions.
No amount of fun features like laser dots and multi-colored illuminated reticles are a substitute for high-quality glass in a crossbow scope. Aim through a pricey crossbow scope with Grade A glass and you'll be amazed at how bright the sight picture is, even in low light conditions at dawn or dusk.
What Your Hunting With Your Crossbow Matters
Some hunts are better suited for high-quality illuminated crossbow scopes. Not so much because of the average shot distances or the time of day, but because of the color of the quarry.
Crossbow hunting for black bears is one example. Because black bears are, you guessed it, black in color, a standard non-illuminated black or dark gray scope reticle tends to completely vanish when held over the silhouette of a black bear.
Throw in low-light conditions and this scenario gets even worse. Of course, an illuminated reticle can solve this problem quite easily.
The same holds true for hunting wild boar with a crossbow in low-light conditions. the illuminated reticle can help a ton when it comes to standing out over the dark coat of a wild boar.
Make Sure The Illuminated Crossbow Scope Will Work On Your Crossbow
It's important that you know the FPS your crossbow shoots at in order to select optics that are calibrated to match the arrow speed.
Some illuminated crossbow scopes are manufactured to be at or near zero at 20 yards for crossbows shooting in the 400-430 FPS range, while others may be factory calibrated for crossbows shooting around 350 FPS for example.
Top Pick For Deer Hunters: Vortex Optics Crossfire II Crossbow Scope
When it is that time of year and you start craving venison like a hunter in need of their next trophy, the Vortex Optics Crossfire II crossbow scope is just the tool for precision aiming. This versatile scope comes with multi-coated lenses to ensure superior optics in any light and features an illuminated reticle with illumination controls so you can hunt around corners at night. Its also fog proof and waterproof - what more could you ask for when your aim needs to be perfect?
Prices pulled from Amazon Product Advertising API on:
Product prices and availability are accurate as of the date/time indicated and are subject to change. Any price and availability information displayed on [relevant Amazon Site(s), as applicable] at the time of purchase will apply to the purchase of this product.
It won't be the end of the world if you choose a crossbow scope that does not exactly match your crossbows FPS. Just be ready to have to aim a touch high or low in order to compensate when shooting at different distances.
Some illuminated crossbow scopes feature adjustable FPS settings. These can be ideal as they allow the shooter to dial in the arrow speed range for a more exact targeting profile.
With this type of setup, the shooter will not have to worry about aiming high or low at different distances because the FPS setting on the scope can be adjusted to closely match the arrow speed.
Questions & Answers About Illuminated Crossbow Scopes
What is the best-illuminated crossbow scope?
The best quality illuminated crossbow scope will feature ample eye relief, high-quality glass and a rheostat style brightness control for low light conditions.
How much is a red dot scope for a crossbow?
Red dot scopes are not ideal for crossbows because they lack aiming points for different ranges. Instead buy an illuminated crossbow scope with dot or line reticles set for a variety of distances.
Can you put a laser on a crossbow?
Yes an illuminated laser can be mounted on a crossbow but it can only be zeroed in at one distance so the shooter will need to compensate at different shot distances.