With such a low price point for a compound crossbow, we didn't expect much from our Centerpoint Sniper 370 crossbow review. Suffice to say, we were pleasantly surprised by how comfortable the Sniper 370 is and how well it shoots.
A relative newcomer to the crossbow market, the Centerpoint Sniper 370 has proven to be a solid budget crossbow for entry-level hunters and archers.
In many circles, any crossbow priced under $500 is considered little more than a toy. The Sniper 370 is throwing that train of thought right off the tracks.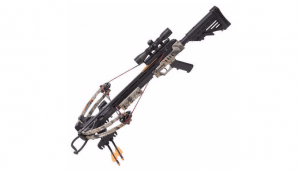 While the 370 doesn't feel as well made and durable as some of the more expensive xbows, it does hold it's own as a well-made entry-level hunting tool.
The CenterPoint sniper 370 package contents include a rope cocking device, three carbon arrows, shoulder sling, 4 by 32 illuminated scope, instruction manual and a warranty card.
Most people agree that the performance of this crossbow goes beyond its price; hence, it is one of the best options for people wanting a great and inexpensive entry level crossbow.
It is an extremely reliable crossbow with great features for the price.
Prices pulled from the Amazon Product Advertising API on:
Product prices and availability are accurate as of the date/time indicated and are subject to change. Any price and availability information displayed on [relevant Amazon Site(s), as applicable] at the time of purchase will apply to the purchase of this product.
Power
This crossbow has a remarkable velocity of 370FPS that gives it the name CenterPoint sniper 370.
The shooting speed deals about 130 FPKE which is plenty of energy to deliver a deadly blow to most large game animals out to 50 yards and more.
The Center Point sniper provides perfect accuracy and reliability for a shot taken within a fifty-yard range.
For some hunters, they have been able to hit the bulls-eye at over a fifty-yard range but taking shots at that range can be a risk of injury when hunting.
The Xbow ships with 375- grain overall weight carbon bolts for increased kinetic energy and momentum during hunting.
Its accuracy and sheer power together with the quad limbs and CNC machined cams make it a fantastic lower cost hunting crossbow.
Noise Suppression
The crossbow has string suppressors that are effective in reducing vibration this way; it enhances accuracy and reduces noise output.
More so, the foot stirrup has a rubber coating to help suppress noise. Some hunters still find it efficient to add more serious dampeners to make the crossbow quieter so that some prey such as deer do not hear the xbow fire and jump the string.
Durability
The selection of the CenterPoint sniper 370 materials is to a greater extent to ensure it provides years of durable performance.
Its life expectancy has been enhanced by machined aluminum that has few irregularities and higher tolerance. The crossbow has a five-year warranty, and if you are keen to follow the instructions of the manufacturer such as waxing the string and lubing the rail after every about fifteen shots and keeping the bow clean, it will serve you for several years.
The manufacturer covers all the crossbow accessories and strings during the warranty period.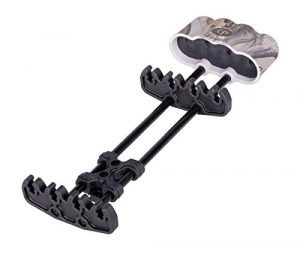 The CenterPoint sniper 370 ships with a sturdy and durable CNC machined aluminum riser and stock and a split limb. This promotes its versatility, strength, and visual appeal.
Safety
A lot of effort has been put in ensuring you don't inadvertently cause harm to others or yourself when using this weapon.
Firstly, it has an anti-dry fire mechanism in place to prevent you from firing accidentally when a crossbow arrow has not been placed on the rail.
More so, the safety release can be operated easily with either hand. You won't find this feature in many models. Additionally, the foregrip is placed below the bow's rail implying that your fingers will be safe in case your fire accidentally.
Optics Quality
The package comes with an illuminated scope featuring circle reticles and crosshair in green and red with calibrations set for up to forty yards.
It makes sighting easy, and with the five levels of brightness, you can easily hunt any time of the day.
The Centerpoint sniper 370 is available in a non-reflective black or combination of jungle camouflage and black that helps you in blending in with the natural surroundings while you go out to hunt.
SPECS:
Draw Weight 185 lbs.
Length:36 inches
Width: 21.5 inches
Weight: 7.7 lbs.
Shooting Speed (FPS) 370 feet per second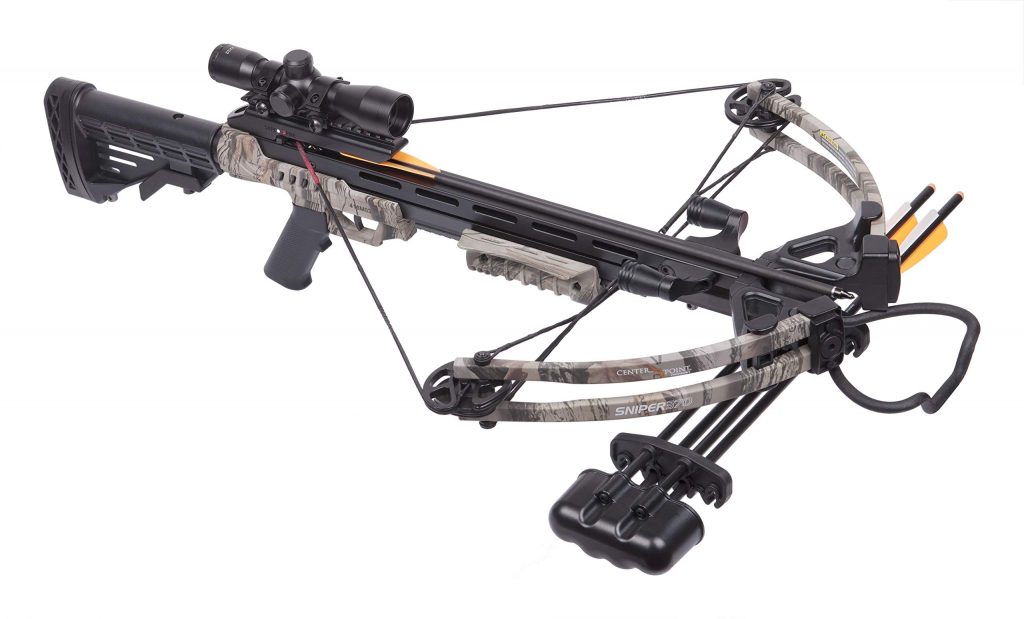 The Final Word: A great choice for crossbow hunters on a budget looking for a solid entry-level xbow that is adjustable to fit a variety of shooters. The draw weight is a bit of a bear but it is not horribly bad and even smaller shooters can usually handle it.
CONCLUSION
I hope this CenterPoint Sniper 370 review answered your questions about the crossbow.
CenterPoint sniper 370 is a very low-cost crossbow with surprisingly impressive performance. Despite its nose-heavy design and heavy trigger pull, the 370 is more than capable of consistent accuracy out to the 40-yard mark especially when fitted with a more expensive scope.
The adjustable stock makes this xbow a great choice for crossbow hunters of different sizes and with different shooting styles.
If you are looking to get your feet wet and try crossbow hunting or want an inexpensive crossbow to keep on hand for the upcoming apocalypse, the Sniper 370 is a great buy!
Will the parts wear out faster than the more expensive models?
Probably so. But for around the $250 mark, you will be hard-pressed to find an easier to handle, accurate and hard-hitting crossbow to hunt or target shoot with.