Much to our surprise, we continue to see an ever-increasing selection of decent xbows that can be purchased at or around the $300 mark.
Most crossbows cost considerably more and finding the best crossbow under $300 can be a challenge with so many models offering sub-par performance.
While you're not going to get blistering fast FPS or all the bells and whistles of the more expensive models, some options are surprisingly fast and solidly built.
In the past, these lower-end models were tainted with lack-luster performance and cheaply made components.
In recent years the overall quality and performance of several inexpensive crossbows have gotten a lot better. In fact, it is now possible to arm yourself with a huntable rig for a surprisingly low cost.
If you're looking to buy the best crossbows in the $300 range this list of our top picks is going to be your best bet!
Top Picks: Best Crossbows Under $300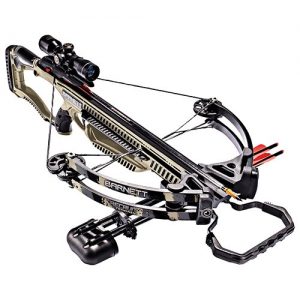 The chances are good that you have come across the Barnett Recruit while searching for affordable but excellent-quality crossbows.
The weapon is convenient for small users and women based on its rather small size. Apart from the manageable size, it is equipped with a simple yet unique design with top-rated features.
The draw weight is an extremely manageable 140lbs which is again, great for smaller folks who don't want to wrestle a brutal draw every time they wish to fire the crossbow.
The Recruit Terrain pushes arrows at over 330 FPS which is plenty fast to take down most large game animals at up to 30 yards.
It features a fairly crisp "zero-creep" trigger, anti-vibration foot stirrup, and an anti-dry fire mechanism.
It doesn't ship with a crank-style draw device but it is compatible with them if you choose to upgrade. A rope draw device is standards.
PROS
Easy To Draw
Quite Accurate Out To 40 Yards
Short Trigger Pull
CONS
May Feel Too Small For Some People
It's No Speed Demon
Buy on Amazon
---

This model is another decent choice for the under $300 crowd looking for s tactical style crossbow.  It ships with a pre-installed fore-grip, dry fire inhibitor trigger technology, and a CNS riser.
The Crusher manages a 325 FPS rating with a 350LB draw weight.
The Crusher sports a dry fir preventer as well as a pre-installed foregrip which looks snazzy and helps the shooter keep his or her hands down and further away from the string when shooting.
The Southland Archery Supply SAS Crusher is a great item for beginners as it provides a brilliant approach to learning the basics of shooting an xbow.
The Crusher goes for only $236, which is well under the $300 mark.
PROS
Very Inexpensive To Buy
Slick Military Style Tactical "Sniper Rifle" Style
Nice Starter Package
CONS
Mediocre Arrow FPS & Power
Quite Large & Somewhat Cumbersome
Buy on Amazon
---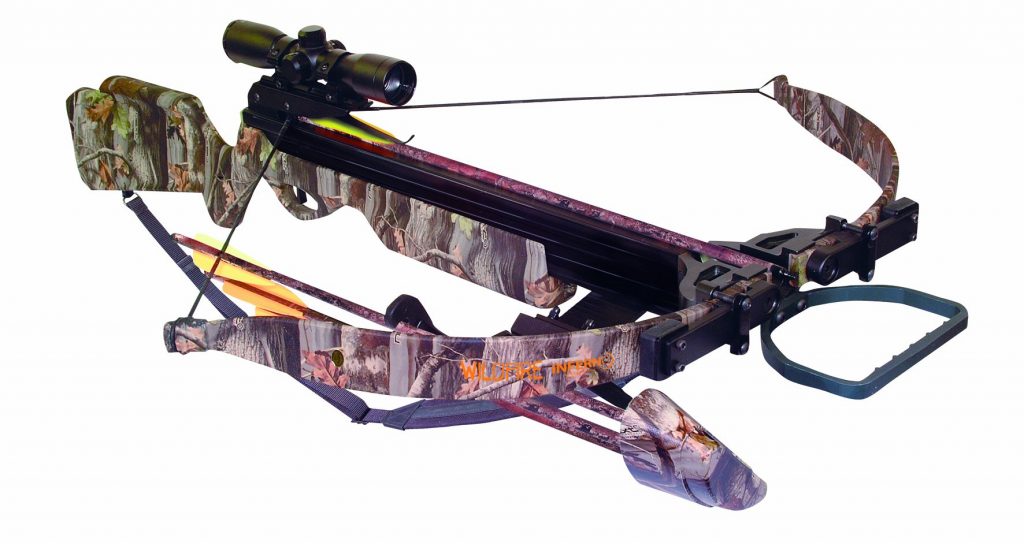 Impressive power without all the moving parts of compound limbs makes the Wildfire II a great choice for xbow shooters looking for simplicity.
KISS. Keep It Simple Stupid! It's logic as old as the hills, and it holds true with xbows.
The Wildfire II is sweet and simple with plenty of power to stick big game animals out to 40 yards.
The hefty 225-pound draw weight launches arrows over 345FPS for some serious stopping power.
Drawing and cocking this beast can be a bit cumbersome, however.
It is equipped with an advanced noise suppression system, a Multi-reticle Illuminated Scope, and G1 Soft Touch MicroPrint Camo.
PROS
Simple design meets wicked power.
Easy to shoot accurately out to and beyond 40 yards.
Well designed noise suppression system.
CONS
Pulling it back to full draw is a task that is not for the weak of heart.
Buy on Amazon
---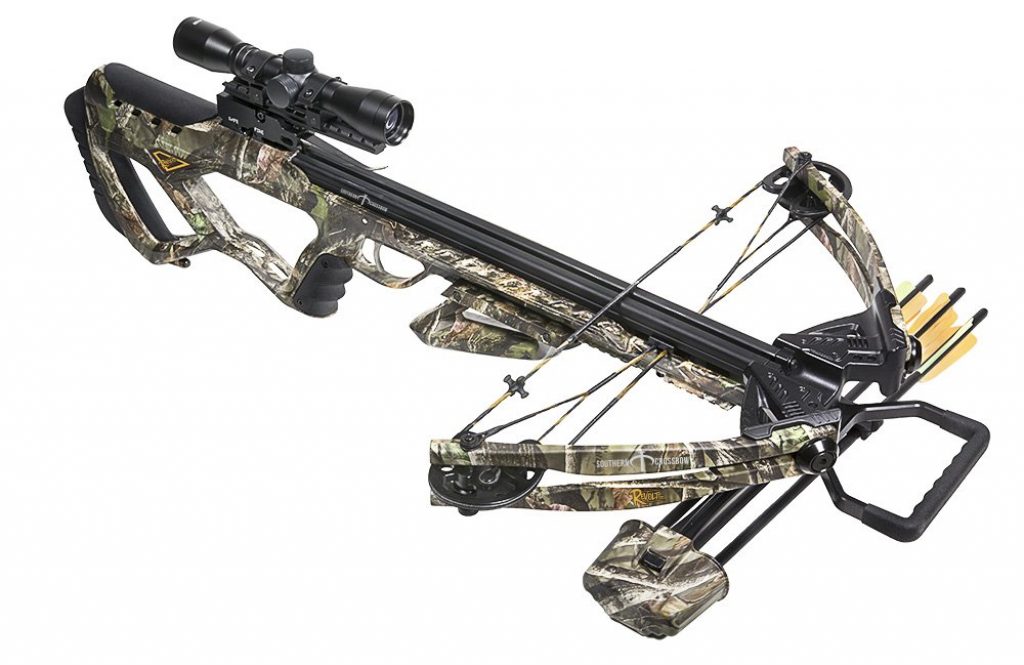 Sporting a super-strong split limb design, a lightweight aluminum riser, and a reinforced composite stock, the Revolt 370 can rip arrows over 370 FPS.
The xbow features an anti-dry-fire system which is a great feature at this low price point, making this another great choice for the best crossbows under $300.
The 185LBS draw weight, and 13.75″ draw stroke is not for the limp-wristed and will take some strength to lock and load.
If you plan to shoot out and beyond 40 yards, the power provided by the 185LBS limbs will definitely be a plus.
Crossbow kits ship ready to hunt with three carbon bolts, a rope cocker, and a shoulder sling. The equipment does not only come with the full accessory package but also ensures your safety while in action.
PROS
Fast & Powerful For An Inexpensive Xbow.
Well Balanced Design.
Comfortable & Easy To Shoot.
CONS
185LBS of draw weight with no crank might be a bit brutal for smaller and younger shooters.
Getting tough to find for under $300
Buy on Amazon
---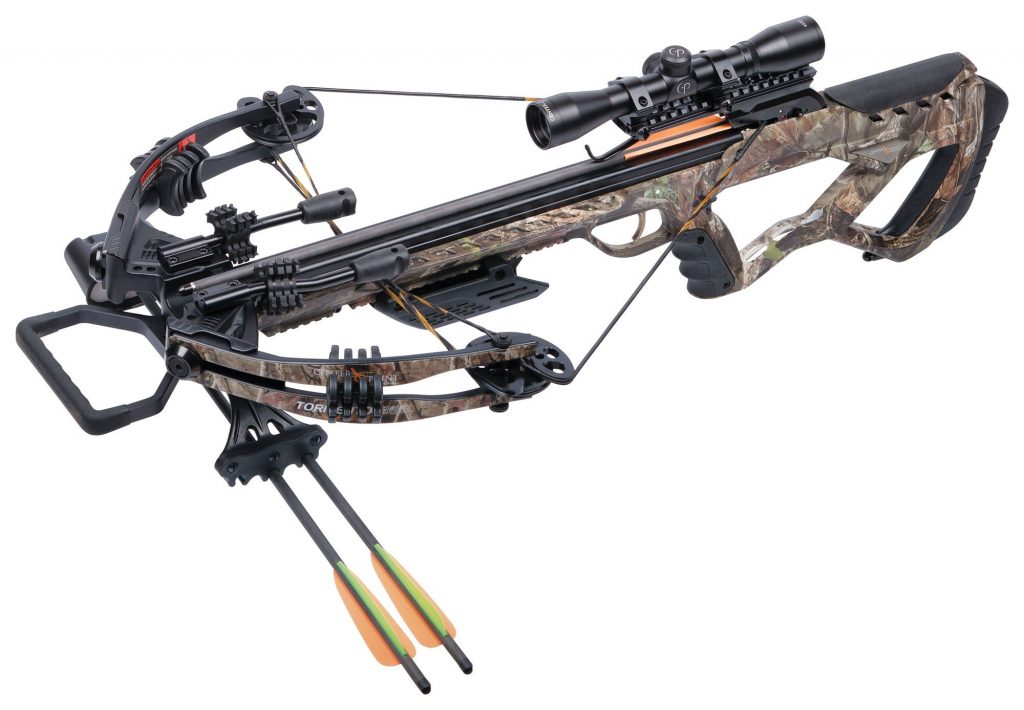 With a lightweight of 11.9 pounds, the Whisper makes a great xbow for hunting on the move or from a blind or tree stand.
And with a track record of durability and consistent performance, the Whisper is tough to beat at only $299.
At 380FPS the Tormentor can handle big game out to 50 yards.
And it's designed to be hunt ready and quiet in the woods. String stoppers, dampeners and cat whiskers are all part of the package and work well together to keep this xbow from snapping too loudly when fired.
The padded stock is a nice touch, and it's all incorporated in a fully weatherproof design that won't let you down while hunting in inclement weather.
PROS
Fast & Powerful For An Inexpensive Xbow.
String Stops & Limb Silencers Are Stock.
Nice Padded Stock.
CONS
Small Foot Stirrup Is Tough To Fit Boots Through.
The Scope Quality Is Lousy.
Buy on Amazon
---
The Jackal crossbow combines Barnett's smooth, 3. 5 lb. trigger with a classic military-style composite stock to create a crossbow that anyone can easily shoot! It boasts an awesome 315 fps velocity with an ultra-smooth draw and 150-pound draw weight.
Designed to withstand any weather conditions, this hunting crossbow can be used anywhere at any time. Jackal Hunting Crossbow Package, Camouflage comes complete with a durable 4x32mm red dot scope for precision aiming.
Prices pulled from the Amazon Product Advertising API on:
Product prices and availability are accurate as of the date/time indicated and are subject to change. Any price and availability information displayed on [relevant Amazon Site(s), as applicable] at the time of purchase will apply to the purchase of this product.
You'll also get three 20-inch arrows, bolts and a quick detach quiver. An integrated quiver is ready to hold three arrows and mounts on either side for easy access.
A sleek crossbow, military style compact stock,

high energy wheels; synthetic string

&

cable

Its Length is

35.5 ″

and

Width is

26.5 ″

A

7.

7

lbs. crossbow having a draw weight of

150

lbs

Shoots arrows at the velocity of

315

FPS

(

feet per second faster

)

It comes with a durable 4x32mm red dot scope for precision aiming, three 20-inch arrows, bolts and a quick-detach quiver.
---
The Best Crossbows Under $300 Are Improving
Find Updated Crossbow Reviews On This Page
While they are not going to blow the back out of your target or zip arrows at break-neck speeds, some of the models featured on this page at or around the $300.00 mark offer a ton of performance and safety at a great price.
If you keep your shots under 40 yards, any one of these sub $300 crossbows would be a great choice for deer hunting with power to spare.
[wpsm_comparison_table id="8″ class=""]
Individuals who don't want to dish out big bucks any longer have to settle for slow, inaccurate crossbows that are poorly made and don't hold up well over time.
$300 can set you up with a decent entry-level rig that will have you honing your skills on the range and out in the woods. If you don't mind sacrificing some of the luxuries that more expensive crossbows feature, you should be fine and dandy. Just don't expect top-tier quality optics and build quality on these sub $300 crossbows.