When shopping for a new xbow finding a good deal is only part of the equation. One question we hear quite frequently is "What is the best crossbow for the money?"
It's not an easy question to answer! In fact, we almost always answer that question with a series of questions:
How Do You Intend To Use The Crossbow?
How much money do you have to spend?
Will you be hunting with the xbow or is it strictly for target practice?
What game animals will you be hunting and at what ranges?
Will you be hunting from a treestand or ground blind?
Are you strong enough to draw and load a crossbow with a rope-cocking device?
What is the best crossbow for the money for me?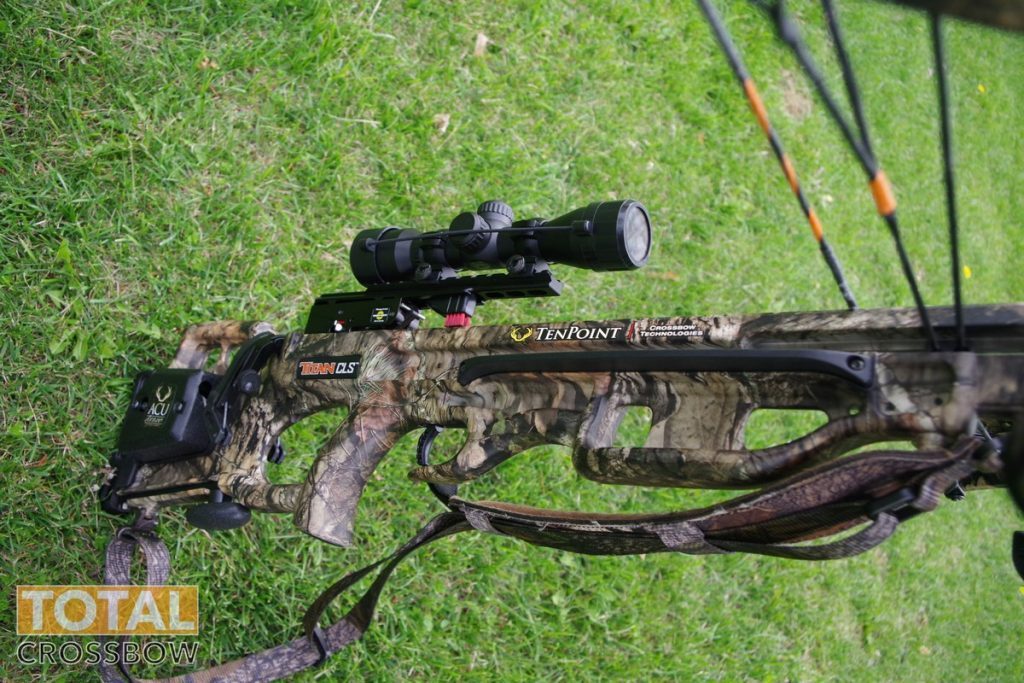 These are all questions you have to ask yourself before hitting the BUY button! XBOWS come in a wide variety of formats, sizes, weights, and designs with features best suited for different applications.
If you're going to be hunting from a tree-stand, definitely consider a compact model for their small size, for example.
If you're low on arm strength, you'll want a model with some sort of automatic drawing device to make cocking and loading the weapon easier and faster.
Think about your needs and write down the features you feel will be best suited for you, then ask yourself "What is the best crossbow for the money for my shooting style and hunting plans?"
Our round-up below contains what we believe are some of the best hunting crossbows for the money broken down by price range.
It's important to keep in mind that any crossbow under $200 is basically considered a toy or a crossbow that is strictly for target practice.
Hunting is about making quick kills and using a $200 crossbow for hunting large game like deer, elk, moose, etc is really pushing ones luck.
It's difficult enough to bring down a large game animal with an arrow. Adding low FPS, poor penetration and not so great accuracy to the mix is not going to have things moving in your favor.
The good news is once the price point bumps up near the $300 range things get a lot more serious with some solid hunting crossbows available in that price range. They aren't going to set speed and accuracy records, but for shots out to 30 or 40 yards there are a few options out there.
---
As we just mentioned above, the $300 mark is about the bare minimum if you're looking at buying a crossbow that you can seriously hunt large game animals with.
In today's crossbow market there are a few models that are powerful and accurate enough to regularly take down deer out to 40 yards.
Will you be blowing fist-sized holes in oak trees with a crossbow in the $300 range?
No! But there are options that will get you out in the woods armed with a capable crossbow that you can count on.
You've got $400 burning a hole in your pocket and you're hungry for a decent hunting crossbow?
You're in luck! You can snag a decent hunting crossbow in the $400 range that will good enough for small game and most large game animals out to 40 yards easily.
420 FPS screamers? No, not for $400 bucks. But there are some solid crossbow choices based on tried and tested platforms that have been proven to be long-lasting, accurate and durable.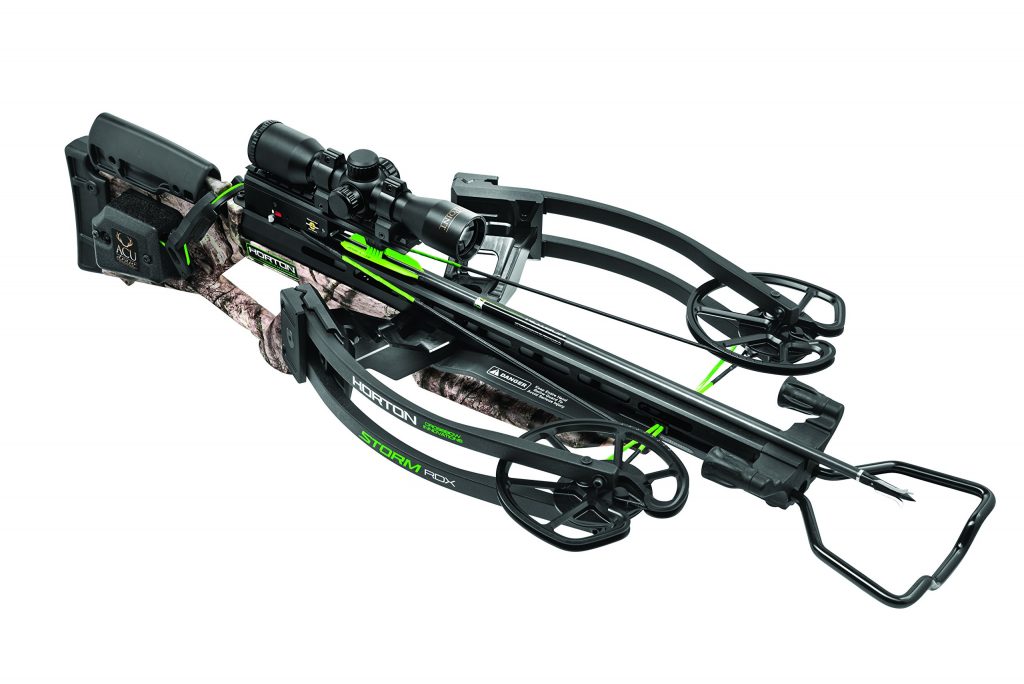 It's tough to come up with many negatives for the Horton Storm RDX crossbow.
The reverse limb design is ultra compact, making hunting from a blind or treestand with this xbow a real treat.
The premium package with ACU-Draw manages to crank out 370 FPS out of modest 165-pound draw weight. Shoot fast and furious without the brutal draw weight. Nice!
---
The $500 crossbow market is getting increasingly crowded as more manufacturers scramble to release models priced to grab the "Entry Level Serious Hunter" market.
The $500 crossbow price range gets you into some of the more advanced platforms with integrated string and limb silencers, advanced safety systems, adjustable stocks, and optics that are a step above the borderline NERF quality seen on many lesser-priced crossbow models.
The Wildfire II is a beast of an XBOW in a recurve limb format that keeps things nice and simple. It can rip arrows down range at over 345FPS for some serious stopping power from a recurve limb xbow.
The Wildfire II ships hunt ready with four 20″ hunting arrows, a clip on/off quiver, a nice padded sling and a rope draw device.
Slings really rock on crossbows by the way. They make carrying the xbow around a whole lot easier, especially when hunting. The fact that the Wildfire II is equipped with one is a nice perk.
The noise dampening system is also a nice touch. Re-curve xbows can really 'Snap' when fired. The unique muffler system on the limbs of the Wildfire II seems to help keep things quieter. This is one of the best recurve crossbows for your hard earned cash.
---
Paying $600 used to be considered a bare minimum for any crossbow even remotely capable of hunting with (see other crossbow review categories here).
Things have changed for the better! Many of the big brands have bolstered up their engineering and designs to provide consumers with more crossbow options in the $600 range.
It's not impossible to buy a $600 crossbow that's equipped with a crank to draw or a similar device on board. This can be a huge plus for smaller folks or younger hunters who don't have arms like Conan The Barbarian and can't quite muster the strength to bring some of these beasts to full draw using just a rope cocking device.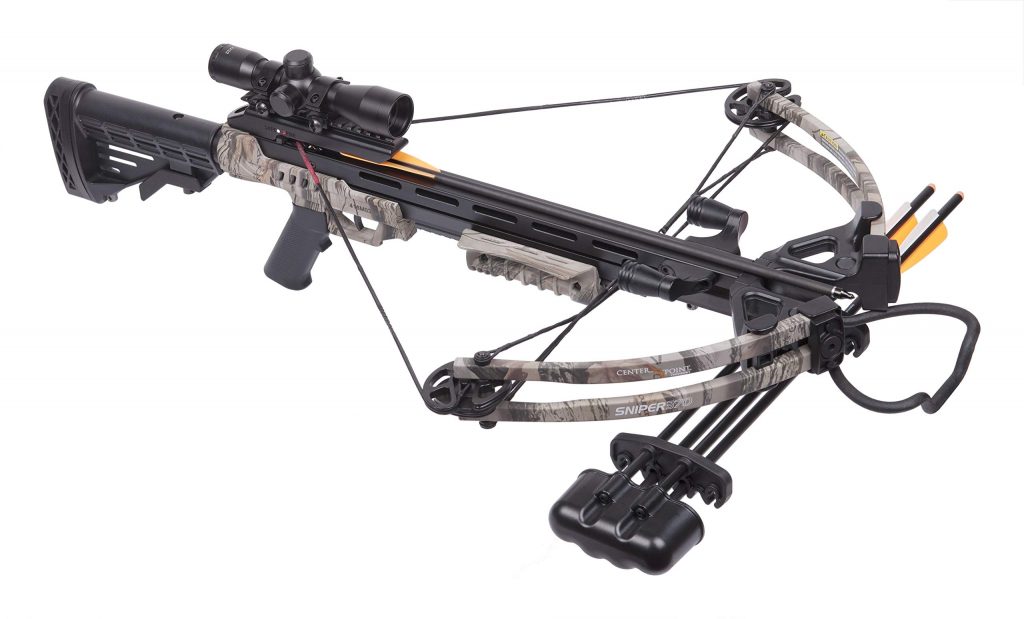 Well known for its smooth operation and ease of use, the Sniper 370 is another great choice as the best crossbow for the money. In fact this model can be had for a surprisingly little amount of money!
With an adjustable stock and pass-through fore-grip the Sniper 370 is easy to set-up for a variety of shooting styles and body sizes.
The Sniper offers a hefty draw weight of 185 pounds via an included rope-draw device. A string silencer is built into the unit to stifle string noise while firing.
It ships with automatic safety and anti-dry-fire built into the trigger mechanism as well. Both are great safety features on such a low-cost XBOW.
---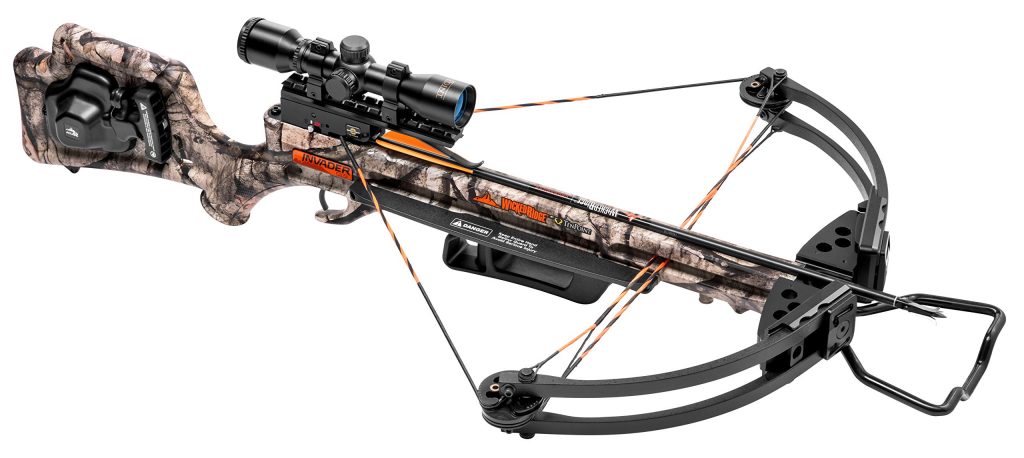 When the Wicked Ridge Invader HP hit the streets a couple years back it received lots of positive feedback as a great all-around crossbow hunting package at an affordable price.
The newer Invader G3 expanded on the HP platform by amping up it's performance and stability.
The G3 is smoother, quieter, and faster than the HP and all in a more compact and easier-to-carry package that makes hunting with it a real treat.
The G3 manages to eek out 330FPS from a modest 165LBS of draw weight. Making it relatively easy to draw and fast enough for big game out to 40 yards with fixed and expandable broadheads.
It's equipped with the handy ACU-52 integrated rope draw system which works well and always keeps the rope at hand. Keeping track of a draw rope can be a real pain when out in the field. With the Acu-52  the rope is always right there on the stock and ready for action.
An auto safety and anti-dry fire system are integrated into the riser for added safety.

This is one of the most efficient crossbows to have for folks wondering what is the best crossbow for the money.  It weighs 7.1 pounds, making it one of the lightest in the market.
It has a draw weight of 165 pounds, with a shooting capability of 385 FPS, which is faster compared to others within the same price range.
This easy to shoot crossbow is a great option as it won't break the bank and is a great crossbow for the money if you plan on hunting or just using it to stick targets.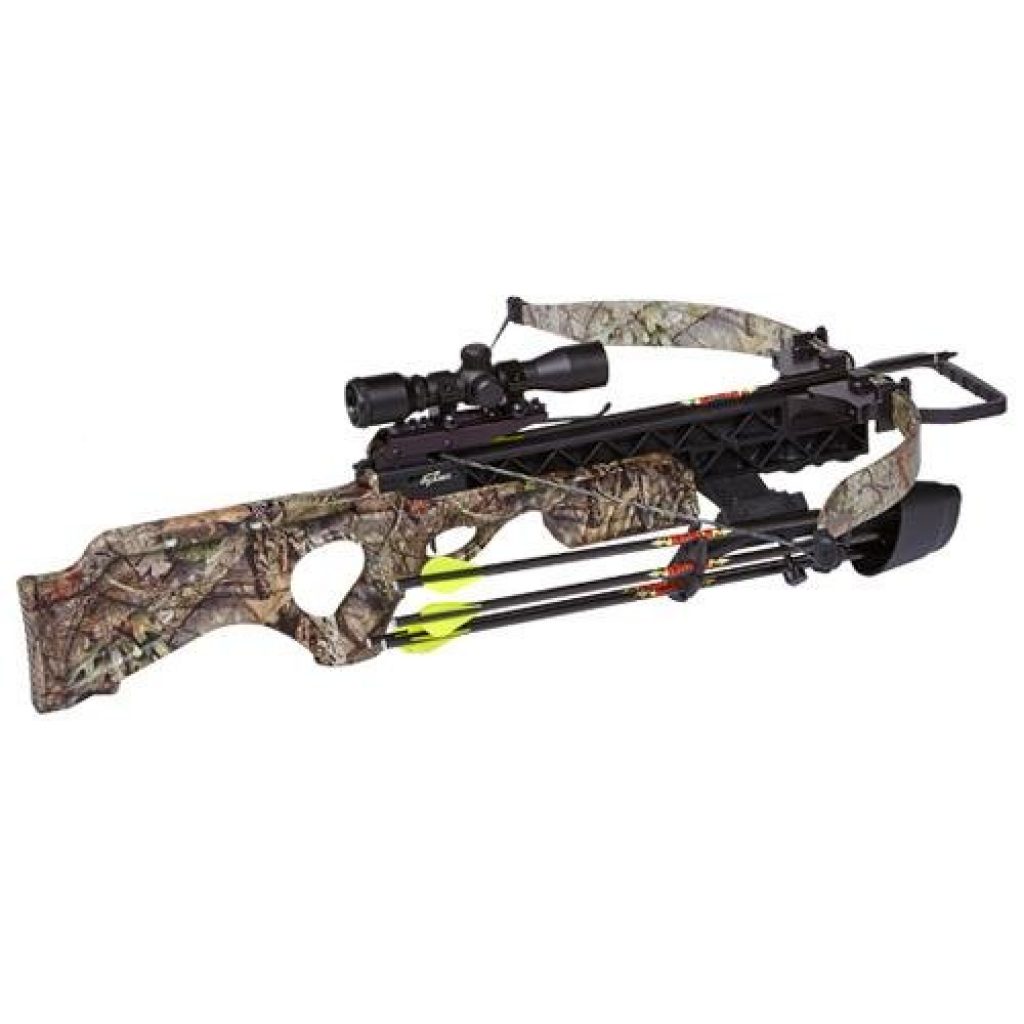 This is another affordable crossbow for you to consider spending your cash on. It is also well balanced. It is gaining popularity nowadays among smaller hunters. It fits comfortably on your shoulders with ease to draw and fire.
Nicely designed and simple components make it a breeze to maintain.
It is a bit expensive due to the high level of technology that is embedded in it, but it offers excellent results worth the price. It only 5.5 pounds.
This crossbow is fast short and light. It is the best for low budget minded individuals looking for one of the best crossbows for the money without spending a ton of it!
Arrows fire out of the bow at 340 feet per second which isn't going to be breaking the sound barrier but it's plenty fast and powerful for shots out to 40 yards without any worry of the animal jumping the string.
It is calibrated for different distances to make your work easier. It has a draw weight of 175 pounds and is a solid contender as one of the best crossbows for the money.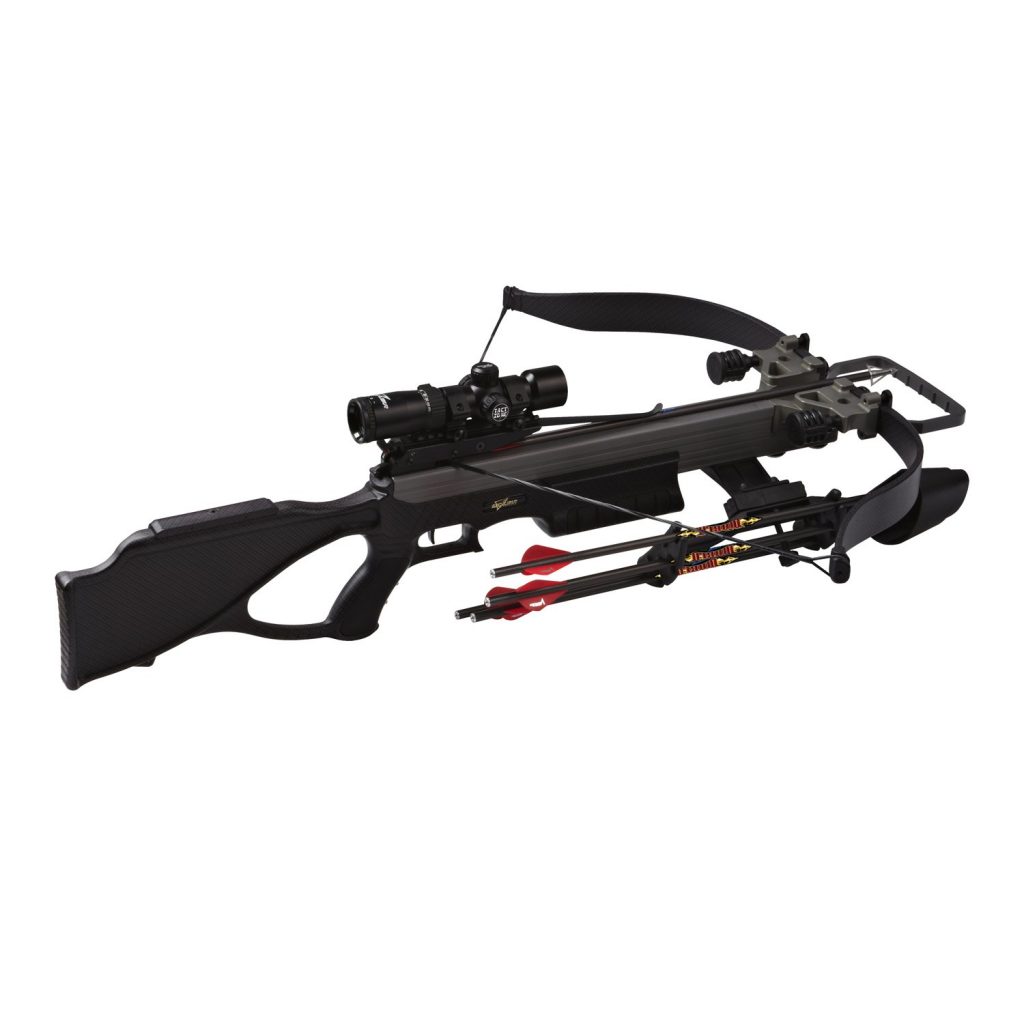 It is a reliable, compact and solid crossbow with a high speed of 380fps.
The Matrix 380 has nice safety features with a solid and super sturdy design that produces excellent accuracy and speed in a package that is easy to maintain.
Ships with four arrow quiver, four bolts, cocking aid, four field points, tact zone scope lifetime warranty and assembly instructions.
Fast, accurate and simple design makes the Matrix a great recurve XBow for your money.
The Best Crossbows For The Money Don't Need To Break The Bank
Unless you're a speed freak or one of the types that need to have the best and newest model available, you don't necessarily need to spend a tone of cash on a crossbow.
There are several Xbows to choose from that do not cost a ton of money and still perform very well both on the target range and out in the woods hunting.
So when asking yourself "What is the best crossbow for the money?" you can choose any one of the xbows on this page and rest assured you'll have a nice rig that is hunt ready and includes a host of great features. As crossbow hunting becomes more and more popular, many hunters are making the switch from compound bows as they age.
Up until recently, there were not many options to buy when shopping for decent models for your hard earned cash. As more manufacturers increase their offerings it is becoming easier and easier to find good deals on high-performance xbows online.