The Wicked Ridge RDX 400 Crossbow with Multiline Scope, represents a breakthrough in crossbow technology and performance. This model is a great example of the power to draw eight ratio that reverse draw crossbows can produce.
While reverse draw xbows may appear a bit strange looking at first glance, the balance created by the limbs being further back really makes this crossbow shoulder and balance like a rifle.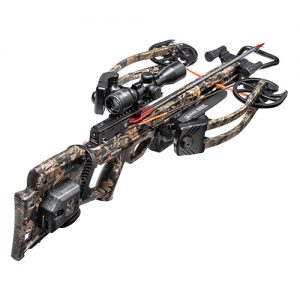 Unlike traditional crossbows which are nose heavy by design, the Wicked Ridge RDX 400 hunting crossbow is very easy to handle. It's especially useful when tree stand hunting and shooting backwards. The super compact design allows the hunter less worry about the limbs colliding with the side of the tree when a shot is taken.
It's a perfectly-balanced reverse-draw crossbow that measures only 9-inches wide. Offering speeds up to 400 FPS at a mere 150 lbs. of draw weight, it's a lightning-fast hunting crossbow that can handle any target from small game like rabbits and turkey to deer, elk, and bear.
It features a perfectly balanced reverse draw bow assembly that utilizes the full 15.5″ of the power strokes. This bow also has Wicked Ridge's Reaper Cam System™ that presents the shooter with incredible down-range accuracy, speed, and power.
A powerful and lightning-fast hunting crossbow.
Its Length is 32.25 ″ and Width (axle-to-axle) is 9″ (Cocked), and 15″ (Uncocked)
A 6 lbs. crossbow having a draw weight of 175 lbs
Pro A.C.U.D.R.A.W. or Rope-Sled Cocking Device
Shoots arrows at the velocity of 400 FPS, 40 feet per second faster than the previous model
ProView or multiline Scope, mounted on a machined aluminum 7/8-inch Fixed Dovetail Mount
Comes with three arrows instant-detach quiver and 3 XX75 aluminum arrows with practice points