The UTG 4X32 1″ Crossbow Scope we review in this post is one of the most accurate and precise scopes available at this $100 price point.
Hello as you may or may not already know, many crossbow packages available for sale to buy online or in-store today, feature scopes that are of poor optical quality.
Many of the stock crossbow scopes have low-quality glass within. This can result in poor light transmission, which can make the target difficult to see especially in low-light conditions at dusk and dawn.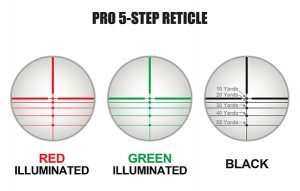 One of the main advantages of using a crossbow versus compound bow is the ability to use a scope to sight the weapon. And a high-quality scope with good glass can actually extend one's hunting time when out in the field.
If you've ever looked through a high-quality rifle scope before you've probably noticed that they can actually brighten the sight picture and allow you to hunt effectively in low-light where traditional peep and pin sights would be useless due to the lack of adequate light.
This is why one of the first upgrades many crossbow buyers do is purchase a new scope that is of better quality then what shipped with the crossbow.
For xbow hunters wanting to upgrade their optics without spending a ton of cash, this UTG 4 x 32 crossbow scope is a great option.
It's calibrated for crossbows firing 300 feet per second and is designed for quick aiming at 10, 20, 30, 40 and 50-yard distances.
[wpsm_woobox id="684″]
The side wheel red/green dual illumination control is perfect for hunting in all kinds of lighting conditions.
It also features premium zero resettable and lockable target turrets that can help compensate for elevation, wind, and other field conditions.
UTG 4×32 – 1″ Crossbow Scope Specs
Field of View: 27.2 feet @100 yards
Eye Relief: 3.8″
Exit Pupil: 8 mm
Magnification: 4X
Reticle Type: Red/Green illumination designed for crossbows and other sporting firearms
Batteries: CR1520 3V (x2)
[wpsm_divider top="80px" bottom="80px" style="double"]
[wpsm_titlebox title="Crossbow Scope Review" style="3″]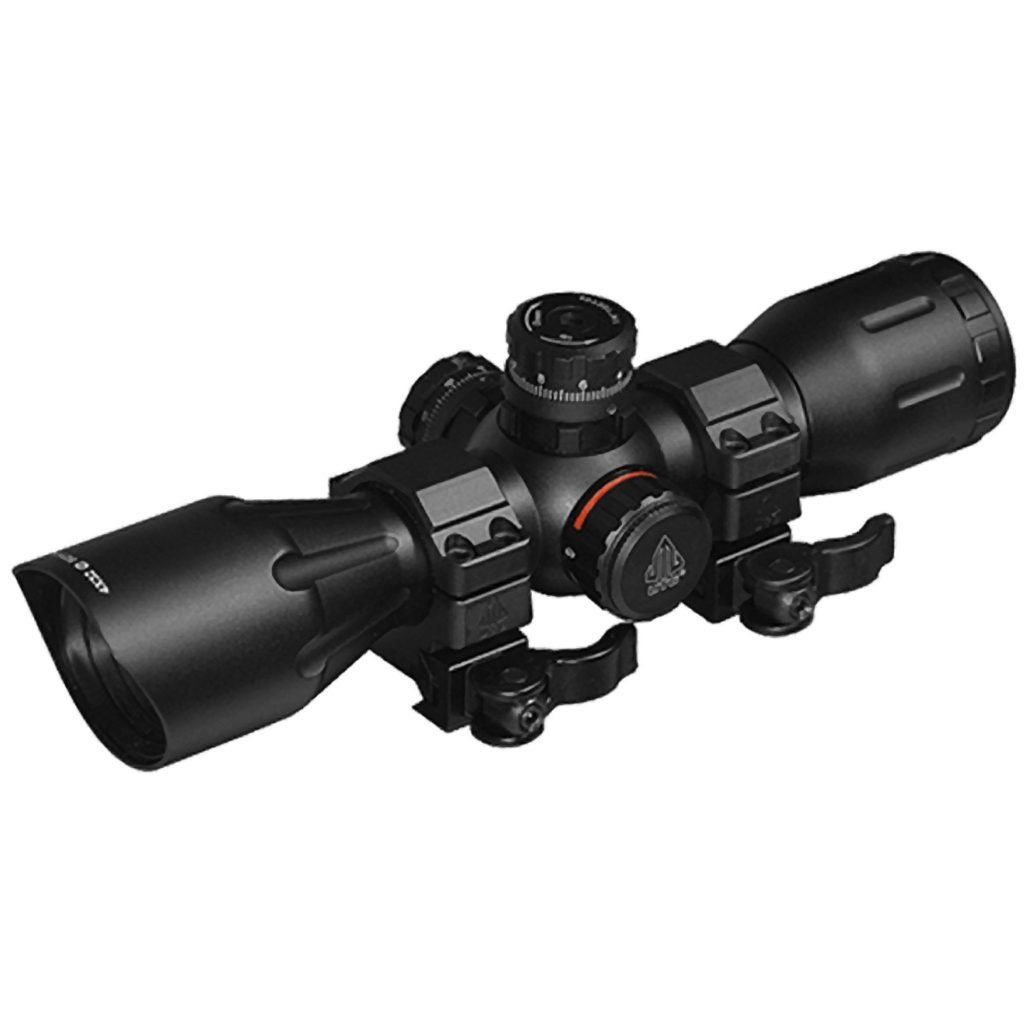 [wpsm_column size="one-half"][wpsm_pros title="PROS:"]
It makes sighting easy. The red and green reticles make it very easy to line up your target in a matter of seconds!
Great design! This model is well-designed and durable. The locking rings make it easy to attach to your crossbow and stays in place no matter the weather condition or how often you move around during your hunt.
Well worth the price. You can't buy a better scope for under $100! Up to date technology and a product that doesn't require a lot of expertise or experience to use.
[/wpsm_pros][/wpsm_column][wpsm_column size="one-half" position="last"][wpsm_cons title="CONS:"]
The line of sight can require some adjusting. It takes a while to get used to sighting correctly. Sometimes the numbers don't line up exactly. Once you're used to it though, it's pretty efficient.
 It's not built for anything higher than 300 fps. Diehard hunters may be used to scopes that offer a larger field of vision. This may be a letdown for people who prefer targets that are farther away.
The mounts are somewhat stubborn. The mounts aren't exactly easy to attach. They have to be tightened with a wrench which often strips the heads a bit. Better quality mounts may be preferred by diehard hunters.[/wpsm_cons][/wpsm_column]
Buy on Amazon
[/wpsm_titlebox]
[wpsm_divider top="80px" bottom="80px" style="double"]
The UTG 4X32 1″is one of the best crossbow scopes reviewed on the market today in the $100 range. It doesn't take long for hunters to find their prey in the field and take a quality shot. It's built to last, and the red/green reticles make targeting easier than ever. A high-quality hunting necessity at a bargain price!