Are you looking for the best budget crossbows for the money? We can help. With decades of experience in archery and crossbow hunting, we've seen our fair share of winners and losers in the crossbow hunting market.
The best budget crossbows will have an anti-dry fire trigger, finger guards, a multi-reticle scope, and a manageable draw weight. Top value hunting crossbows can be compound or recurve format and include a rope draw device.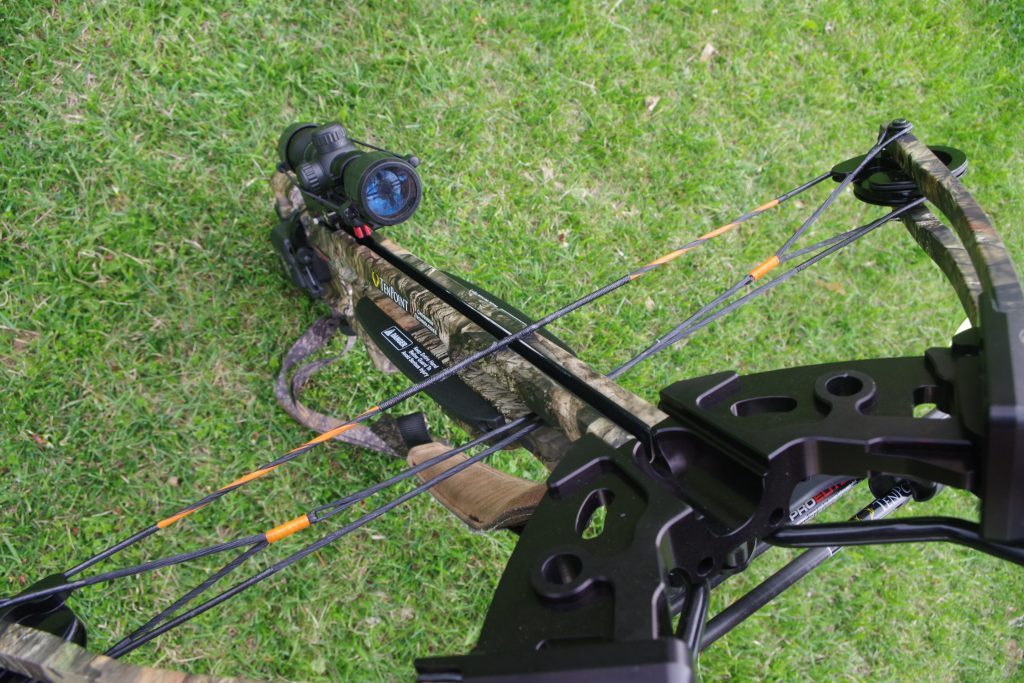 Many affordable crossbows will not produce the blistering fast FPS arrow speeds that the super expensive models produce. But the good news is for most target shooting and hunting scenarios mid-level arrow speeds are more than enough.
One thing to keep in mind is that inexpensive hunting crossbows are often lacking in the optics department. So don't expect Zeiss or Leopold low-level light performance from the value class crossbow scopes that manufacturers include with these lower-cost crossbow options.
What's Your Crossbow Price Range? Use The Links To Find The Best Budget Crossbow You Can Afford.
---
The good thing about best budget crossbows is that almost all of them have removable scopes. In fact one of the first upgrades we suggest for these value hunting crossbows is new optics. Bolting on a better quality crossbow scope can really help with accuracy, especially when hunting in low light conditions.
The Best Budget Crossbows To Buy Online:
1. Bear X Intense CD Ready to Shoot Crossbow
Buy on Amazon
This crossbow is complete with everything that you would need when going hunting. The Bear X Intense crossbow delivers a great performance in a small package. With a size of 10″ wide when cocked and 14″ wide when uncocked.
When it's loaded, it's ready to shoot an arrow at 400 feet per second speed. This lethal crossbow, even though it's a budget one still, it will help you hunt down animals easily. In the package, there are included the 3 Bear X TrueX arrows, a scope, a 4-arrow quiver, a cocking rope, and a rail lube.
2. PSE Archery Fang HD Crossbow
Buy on Amazon
This crossbow is one of the best ones on this list, and it comes with a bit of a higher price at $379, but it's still considered a budget one. The price to performance ratio is really favorable, and it's definitively worth picking this crossbow.
When fully loaded, you deliver an arrow at 405 feet per second, which is deadly to mid to small-sized animals even from afar. It weighs around 7.5 LBS and requires a 205 LBS draw weight. One of the best features of this crossbow is its accuracy.
It has a scope that will help you point down easier and provide incredible aim. Included with the package are the 5-bolt quivers, three carbon bolts with bullet points, cocking rope, and rail lube.
3. Bolt Handhold Hunting Crossbow (best budget crossbow for pistol shooters)
Buy on Amazon
This one is the cheapest option from this list but don't mistake it for a cheap quality build as a simpol pistol target shooter.
It's designed to hunt small animals, but it shoots fast and is quite powerful for its size. It has a feature that helps with cocking the arrows safely so that you avoid accidental discharge.
This product is really lightweight, and it's made with fiberglass limbs, metal, and ABS plastic parts. It's a good option if you are a beginner and want to do some target shooting first so that you get your aim down. Then move to small animals for practice and improve your reflexes. It's a good cheap choice that could be a cool purchase.
4. CenterPoint Sniper 370 Crossbow
Buy on Amazon
This one of the most recommended products from the CenterPoint company and even award-winning for the budget hunting category. This will also serve good as a first hunting crossbow for beginners, so it's a great pick for amateurs who have had some sort of experience before.
The CenterPoint Sniper 370 offers a great performance for an affordable price. It has a fully adjustable stock and foregrip that will accommodate any shooting style and help you aim better. This crossbow is easily maneuverable and has a 185-pound draw force.
When fully loaded, this crossbow's width is 18-inch, so you can shoot from narrow places. In the package, you will find strings suppressors to keep the shots quiet and vibration-free, a 4 X 32 mm scope, three 20-inch carbon arrows, a quiver, rope cocker, and the anti-dry fire mechanism.
I highly recommend this arrow since it really well made and has everything you would need to hunt with confidence. The adjustable stock on this best budget crossbows pick is a great feature for hunters of all sizes.
5. Wildgame Innovations XR250 (best budget crossbow recurve category)
Buy on Amazon
The Wildgame Innovations XR250 is a great crossbow that is really cheap. As you could have guessed from the name, it shoots an arrow at 250 feet per second speed and only weighs at around 6.6 LBS. It has a magnesium cast barrel to increase accuracy and a scope with a single red dot, 30 mm sight with 7 level brightness adjustment.
With a 175 LBS draw weight, this is fairly easy to be drawn, and it will offer you a lot more back in return. In the package, you will find a quiver, two 18″ arrows, a rope cocking device, and the red dot sight. This is another of the best budget crossbows in the recurve category.
6. Killer Instinct MSCKI 1000 Lethal 405 fps Crossbow Pro
Buy on Amazon
The Killer Instinct Lethal 405 Hunting Crossbow Pro Package will offer you all the equipment necessary to have a successful hunting season and bring back home a trophy. This crossbow has an aluminum barrel with an adjustable stock that will make everyone comfortable when holding it.
The Dead Silent limb and the string suppressors that this crossbow has make it really quiet, which is perfect when hunting. As you could have guessed, the crossbows launches a 405 feet per second arrow when fully loaded, which makes it deadly for small to mid-sized animals.
In the package, you will find an IR scope for long-range and low light targeting, a three-bolt quiver, three HYPR Lite bolts with field tips, and a stick of rail tube. This crossbow is really powerful, so you must be careful when using it. This is one of best budget crossbows for speed freaks!
7. Barnett Jackal Crossbow
Buy on Amazon
The Barnet Jackal Crossbow has a weight and power that will make this a devastating weapon in the hands of any hunter. It delivers the power and quality of high-quality crossbows but for budget hunters.
The draw weight of the crossbow is 150 LBS, which offers a fairly smooth operation. When fully loaded, the arrow will be launched at 315 feet per second speed. This lightweight crossbow has a military stock with a divided foregrip for comfortable hand placement. This package includes a quick detach quiver, 20-inch bolts, and a premium red dot sight.
8. Manticore SAS Youth Crossbow
Buy on Amazon
The Manticore Youth Hunting Crossbow is a lightweight option and very reliable. It's really compact and built really well, so this thing will not disappoint you.
The crossbow is suitable for small to mid-sized animals, and it's a respectable choice for younger hunters and beginners.
It's made of real wood and has an aluminum barrel to improve accuracy. When fully loaded, this crossbow can deliver an arrow at 210 feet per second.
There is also an auto safety lock mechanism that will prevent it from firing unintentionally. In the package, you will find two 14-inch arrows, a crossbow string, a foot claw, and a 4 X 20 crossbow scope. For best budget crossbows in the beginner and youth category, this is a great pick.
The Best Budget Crossbows: What To Look For
Buying the best crossbow for the money doesn't mean you have to spend it all! Just make sure that whichever value crossbow model you choose thas the following:
An anti dry-fire trigger
Integrated thumb and finger protection
A scope with multiple reticles for hitting targets at different ranges
A manageable draw weight
Remember, getting an awesome deal on an inexpensive hunting crossbow isn't going to fill any tags if you can hardly pull the string back! Be less concerned with blistering fast FPS and make sure you are comfortable drawing the string back without straining your arms, shoulders and back.
Make sure a rope draw device is included with any budget crossbow purchase. These make drawing the crossbow much easier and safer.
And don't forget to practice, practice, practice!